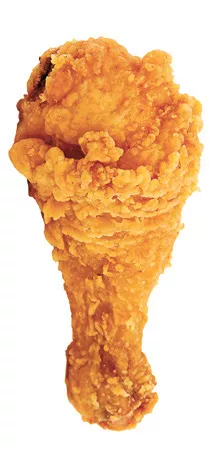 Bigstock
Fried chicken drumstick in isolated white background
We at Chicken-Fried News have decided it's time.
Every day, we comb through the headlines and learn of how drastic cuts to vital state services are having dire consequences. Case in point: implementing four-day school weeks, eliminating child abuse prevention programs, raising college tuition, limiting state troopers on their daily mileage, growing service wait times — by years — for the developmentally disabled, cutting mental health services, slashing provider rates for Medicaid — need we say more?
After lawmakers failed to move forward on the revenue-raising measures associated with the Step Up Oklahoma plan, it was announced that state agencies are bracing for another round of cuts. According to Janelle Stecklein with CNHI Oklahoma, agencies must reduce spending by about 2 percent a month from March through June to save the Legislature about $45 million.
Without the cuts, the state's health agencies — human services, health care and mental health — would run out of money by April, Stecklein reported.
Our response: It's time to utter broke jokes. We've got our fingers and toes crossed that citizens will begin to badger their lawmakers with these catchy one-liners. If enough citizens call their lawmakers, rears will get into gear to fix this budget blunder.
So call a state lawmaker and crack one of these jokes:
Your state is so poor, out-of-state travelers pay more at toll roads to help out.
Your state is so poor, prison roaches started paying rent.
Your state is so poor, it implemented the give-a-penny/take-a-penny cups in the lobbies of state agencies. But the the sign just says, "Give a penny."
Your state is so poor, it can't afford to update its homepage, which says Scott Pruitt is the attorney general.
Your state is so poor, it's always talking about the time it almost gave teachers a raise.
Your state is so poor, its citizens started electing Democrats?
Print headline: Cracking jokes