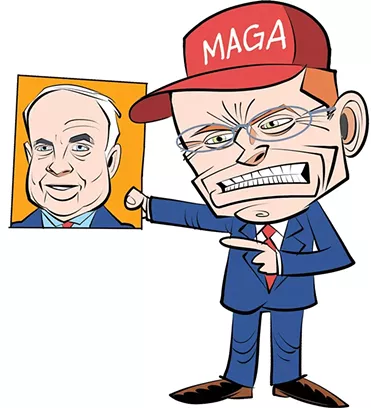 In a series of tweets and interviews following U.S. Sen. John McCain's death on Aug. 25, U.S. Sen. Jim Inhofe (R-OK) praised McCain and called him his hero. While that might be true, Inhofe also made it clear that no one, not even his hero, could get away with challenging his seemingly favorite president ever, Donald J. Trump.
When asked by a CNN reporter why the American flag at the White House was lowered for only two days after McCain's passing, Inhofe said, "Well, you know, frankly I think that John McCain is partially to blame for that because he is very outspoken. He disagreed with the president in certain areas and wasn't too courteous about it."
The tasteful comment certainly revealed Inhofe's unfailing allegiance to a president he apparently believes can do no wrong, even if his actions display utter disrespect for a fallen war hero and the nation that grieves his death.
Custom suggests that flags are lowered when a sitting senator dies and remain lowered until his burial, but the actual requirement for the White House is only two days. Veteran groups took offense at the lack of respect displayed by Trump, and the president finally caved to their protests, agreeing that the flag would again be lowered and remain lowered until McCain's funeral Sept. 1.
"Despite our differences on policy and politics, I respect Senator John McCain's service to our country and, in his honor, have signed a proclamation to fly the flag of the United States at half-staff until the day of his interment," Trump said in a statement released by the White House.
The president's confession of "respect" toward McCain after his passing is a far cry from feelings he publicly announced for the senator while he was alive.
"He's not a war hero. He's a war hero because he was captured. I like people that weren't captured," Trump said of McCain during a televised interview with Reuters.
The president's statement resulted in backlash from many who wondered how a man who declined to serve in the United States armed forces five times could question the credibility of a volunteer U.S. Navy pilot captured and held captive for five years in the "Hanoi Hilton" during the Vietnam War.
In recent years, McCain publicly criticized Trump for initiating division in America.
To remind Americans that we are a nation united despite differences, McCain asked former campaign opponents George W. Bush and Barack Obama to speak at his funeral.
Trump was not invited to attend McCain's funeral, and while he might sit in the White House while McCain is being laid in the ground, all he has to do is look up and see a lowered flag to remind him who has earned the respect of a nation. If you are feeling lonesome Sept. 1, Mr. President, we know a senator from Oklahoma who will apparently gladly jump on a plane, leap through hoops of fire, walk on coal and drag the deceased through the mud … just to hold your hand.