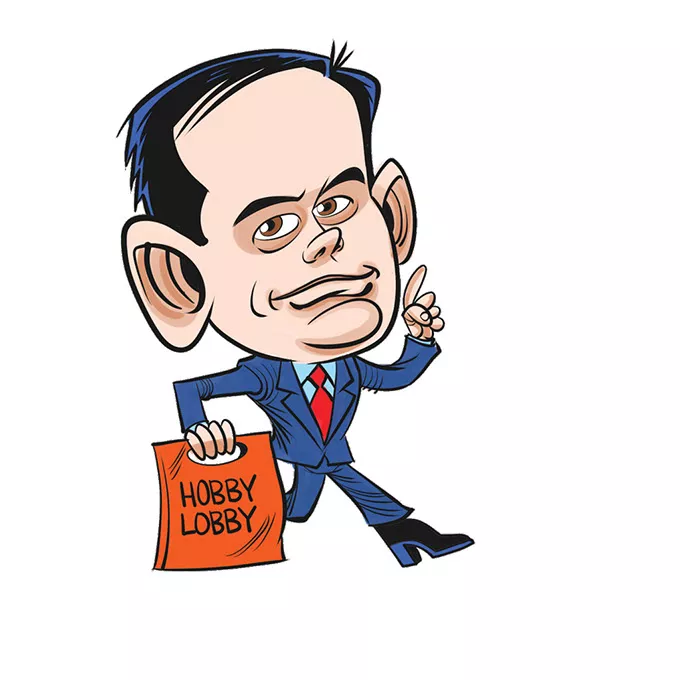 Hobby Lobby's Green family won't pay for contraceptives or morning-after pills for its own employees, but it will pay for the campaign of a man who supports their use.
Company owners David and Barbara Green were so steadfast in their refusal to follow the Affordable Care Act (ACA) mandate requiring them to cover all forms of contraception that they were willing to take the issue all the way to the United States Supreme Court.
With that kind of resolve, you'd think a presidential candidate like Marco Rubio, who has said he supports the sale of the morning-after pill over the counter, would be immediately weeded from consideration by the Greens.
Not so fast. The family recently donated $10,000 to Conservative Solutions PAC, which supports Rubio's bid for president.
In all fairness, the Greens have lent financial support to campaigns by Mike Huckabee, Ben Carson and Carly Fiorina. Way to pick the frontrunners, guys. Rubio also backed Hobby Lobby in its fight against the ACA.
It's probable that the Green family lines up closely with Rubio on many issues, and there was likely a good business reason for the family to donate to Conservative Solutions.
But for a business literally run on supposedly uncompromisable religious beliefs, you'd think morals would come before money.
Print headline: Donation fixation