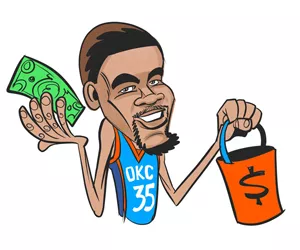 Did you know OKC Thunder games aren't free? You did? Well, you probably also know it's not free to eat at a Bricktown restaurant before the game or stay in a hotel if you are an out-of-town guest. So, it's probably no surprise to you that OKC's only top-tier professional sports team is an economic generator for the city.
"The Oklahoma City Thunder has been a hit financially again this season for themselves, as well as for Oklahoma City," reported News 9 earlier this month. "The city said 41 home games translated into a direct economic impact each game of $1.5 million. Do the math."
We will do the math: That's $61.5 million — even more if the Thunder had made the playoffs, but we digress.
Then again, does this mean that if the Thunder had not come to OKC, we would all just be sitting on a pile of cash, refusing to spend it on other forms of entertainment?
"By many indicators, sport teams as individual firms play only minor roles within complex urban economies," wrote Charles Santo and Gerard Mildner in their book Sport and Policy: Social, Political, and Economic Perspectives.
Their theory is that sports teams concentrate spending rather than create it. Plus, there is the cost in tax dollars that cities like Oklahoma City spend to build stadiums and practice facilities.
But there is no denying the impact the Thunder has had on the city, especially downtown. The Thunder has also helped create employment through stadium workers, waiters and taxi drivers. Then again, this might be a bad week to note that, as the team has spent more adding to the unemployment totals lately with the firing of coach Scott Brooks.