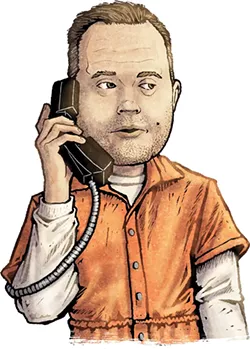 We recently reported on Rep. Dean Davis's arrest during which he "I need to speak to your manager"-ed the arresting officer. Now, thanks to NonDoc, his jail call recordings to several fellow legislators are public, and oh boy are they full of golden nuggets.
Davis was arrested Aug. 2 on suspicion of a DUI, speeding and obstructing an officer. NonDoc reported Aug. 20 that Davis called two of his legislative buddies, a sheriff and "a woman with whom he lives" from jail. All calls were placed after 11 p.m., so it's no surprise that Sheriff Vic Regalado did not answer. But that didn't stop Davis from leaving a totally innocent voicemail and calling twice more.
"I'm over here at the Broken Arrow Detention Center because I just got arrested, and I'm probably going to be sent over to your establishment. So I was calling you," he said. "So if you would, I would really appreciate your assistance and help. I'm going to call you back right now. Thank you."
In a statement to News On 6, Regalado said he wouldn't have provided any assistance in "helping him to circumvent the criminal justice process."
Davis seemed to want his friends to pull some strings for him, but it didn't work. It didn't work so bad that his attorney Bruce Edge is now saying "[Davis] was baited into making more calls." This despite the fact that Davis himself said one of his former students who now works at the detention center gave him the option to "call a few people."
"Right when I got pulled over, I called [Chief Brandon Berryhill]. I go, 'Hey I just got pulled over. I don't even know why.' I go, 'I was following a car kind of close, but still,'" Davis said with no self-awareness whatsoever.
Once Davis is voted out of office (we're being very optimistic here), he might steer clear of Broken Arrow altogether.
"This is not going to help Broken Arrow at all because they just made an enemy, and that's not good at all. You know that," Davis said of a town full of his constituents.
The calls, while somewhat entertaining, are also very revealing. Here's one of the best snippets that highlights the "code of morals, ethics and professionalism" he campaigned on:
"All DUIs go through county. They have to go through the district court, which I can talk to the DA … and they'll drop it," Davis told Rep. T.J. Marti with a laugh.
"Don't be cocky and piss those guys off," Rep. Marti replied.
Davis apologized with another laugh.
Well, we suppose he never specified that his code of morals, ethics and professionalism was, you know, ethical.