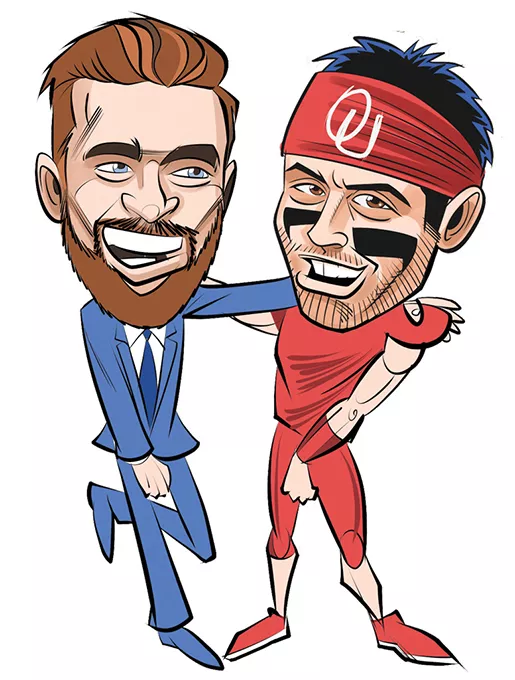 "Kids these days," said one Chicken-Fried News reporter very loudly after reading a news piece from KFOR titled "Oklahoma teen accused of posting child pornography in attempt to blackmail school administrators."
The senior reporter continued, "What's with all this sexting?"
"Oh, gag me with a spoon," responded one reporter, a member of Generation X.
"I can't even," answered the millennial reporter on staff.
We at Chicken-Fried News are collectively asking, "What's going on, Generation Z?"
We get that you have grown up entirely in the digital world, expect high-speed Internet at your fingertips and want an app for everything — we like apps. We don't understand posting nude and provocative photos on social media or using your high school's Wi-Fi to do so. Case in point: the Carl Albert High School student and creator of the Snapchat account tyler_yodaddy.
According to KFOR, tyler_yodaddy posted nude and provocative photos of fellow Carl Albert students through the school's Wi-Fi. When school leaders learned of the account and its posts, it shut off the Wi-Fi. tyler_yodaddy responded with a threatening message to the administration. If they didn't turn the Wi-Fi back on, more photos would be posted, the TV station reported.
More photos were posted.
As you might imagine, Midwest City Police Department launched an investigation, which ended with a juvenile accused of violating the computer crime act, blackmail and transmission of obscenity and child pornography. Those charges were presented to the Oklahoma County District Attorney's Office, Juvenile Bureau, the TV station reported.
We at Chicken-Fried News don't get it. We are not alone. Police Chief Brandon Clabes told KFOR, "It could have been completely avoided if teenagers just don't take and share these types of 'selfies.' Once underage nude photos (child pornography) are made public, they are forever."
Maybe it is time for older generations to speak Gen Z lingo. So we ask, "Suh?"
Print headline: Generation clash