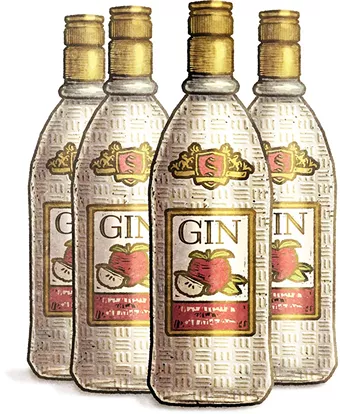 Oklahoma Department of Corrections (DOC) sure loves to ruin its inmates' weekend plans.
Last Friday, officers at Clara Waters Community Corrections Center were watching surveillance cameras, as they do, when they spotted someone jumping the perimeter fence. After investigating the grounds twice, an officer found four bottles of Seagram's Apple Twisted Gin in the trash, giving a different, sadder meaning to the term "trash can punch." Thankfully, the bottles were full, so no inmates were caught calling their exes from their contraband cellphones.
"An alert Correctional Officer may have spoiled someone's weekend party plans at Clara Waters Community Corrections Center last Friday," Oklahoma DOC gleefully boasted on Facebook.
That would have been some party, but we cannot help but feel like DOC actually saved their weekend because four bottles of gin sounds like a continuation of their punishment. Joe Costello, one of the officers who was on duty, told Oklahoma Gazette it is not uncommon for inmates to group up to bring contraband into the facility and for officers to intercept it, though the contraband is typically not Seagram's Gin.
DOC did not report whether it caught the smuggler but was quick to remind the public that bringing alcohol into correctional facilities is a felony — even if it is apple-flavored. A comment on DOC's Facebook post by another correctional officer states that four total officers were responsible for the bust. The comment, however, did not go into detail about how much of a rager their staff party was that evening.