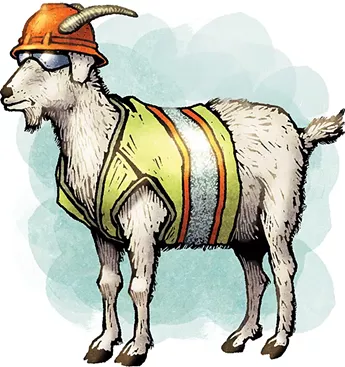 Oklahoma City's most unusual, cutest and — face it — coolest employees are back in action. That's right; our very own goat herd lawn crew is back to clearing out overgrowth at Hefner Canal.
The city posted on Twitter that its "little grass munchers" were clearing out invasive species along the canal that transports water from Lake Overholser to Lake Hefner. The goats, which are fairly popular on their Facebook and Twitter pages, are able to climb steep areas and clear out vegetation and plants that would be dangerous for humans. Frankly, we are not completely surprised goats make better city employees than some humans. Sure, they can be a little stubborn and grumpy, but they work for the government. Can you blame them?
"Our first herd we leased from @LangstonU as a trial," the city wrote in a tweet. "Two years later, the City puchased [sic] its own herd and has been managing them ever since. Lots of perks to this job: all-you-eat buffet and naps!"
The city started out with 19 goats from Langston University, but it now owns 61 goats and two goat-herding bodyguard donkeys that keep predators away. We hate to be jealous of goats and donkeys, but all 63 animals receive more adequate health care — getting tended to daily and regular veterinary checkups — than many Oklahomans. Honestly, besides having to eat grass and poison ivy, this actually sounds like a pretty good gig.
We have to hand it to OKC; it found an environmentally friendly, chemical-free way to tend to overgrown grass in a difficult area to control. And it continues to develop the herd in an environmentally conscious and animal-friendly way. This time we are surprised but not disappointed.