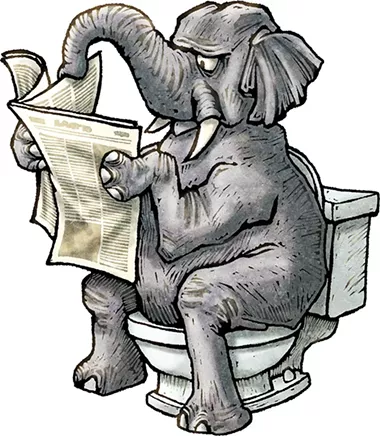 Oklahoma City Zoo and Botanical Garden is finally selling its poo. We are not sure who asked for this, but we are glad it is here.
Two years ago, the zoo's horticultural curator Lance Swearengin "looked up at the zoo's ever-growing mountain of organic plant and animal waste" and saw gold. Brown gold, but gold nonetheless.
Swearengin reached out to Minick Materials, a local landscaping company, and presented an idea that — not to be dramatic — changed the zoo forever. Minick agreed to use its resources and partner with the zoo, and OKC Zoo Poo was born. Not only did this alleviate the zoo's "increasingly hard to manage 15-year-old compost heap," but it spurred a premium, all-natural compost product that is great fertilizer for gardens.
Because the zoo has such a huge "wealth of organic waste," it initially took a month and 60 truckloads to transport 400,000 gallons of waste to Minick for processing. Zoo Poo was used for the zoo's 160 acres of gardens at first, but now you can own the zoo's brown gold yourself.
The product dropped April 20, during the zoo's Party for the Planet event. Small bags and large boxes were available for purchase through the early afternoon, and based on people's reactions on social media, it was a hit. The zoo will only sell its poo in those quantities during special events, but anyone needing a big bulk of Zoo Poo can get it year-round from Minick at $50 per cubic yard. We hear it is good shit.