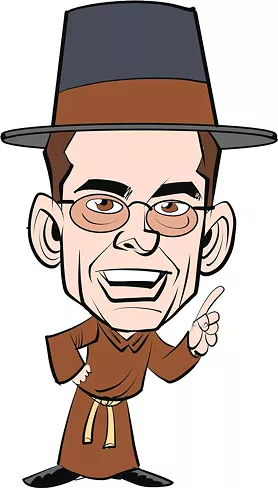 Intolerance doesn't always march on Southern cities bearing tiki torches while chanting, "You will not replace us." Sometimes it toils quietly, seemingly benign, in quiet places of authority and trust.
And in a recent story broken by OU Daily, sometimes it is responsible for shaping tomorrow's legal minds.
On Sept. 30, OU Daily reported that Brian McCall, a University of Oklahoma law professor, associate dean for academic affairs at OU College of Law and associate director of OU Law Center, authored a book in 2014 arguing that women should never wear pants and should not vote. In To Build the City of God: Living as Catholics in a Secular Age, McCall wrote that European cultural institutions and writings are far superior to other cultures' great works and the U.S. Constitution was the product of erroneous thought brought on by Enlightenment-era liberalism.
Yes, Chicken-Fried News readers, McCall is a law professor who appears not to fully believe in the Constitution and that "the only sovereign in any political system is Christ the King."
The CFN News Team collectively wondered, "What in Christ the King is going on at OU Law?" and careened for our high-point beer cooler after we read the part about women and pants. McCall wrote that women and girls in the McCall household have to wear skirts or, most likely, ankle-length prairie dresses or red tunics with white bonnets because pants draw men's attention to a woman's "creative sanctuary."
We're all really drunk now.
Four days after the report, Joseph Harroz, dean of OU College of Law, announced in a letter to the "OU Law Community" that McCall had voluntarily resigned his administrative duties.
"The OU College of Law is a place of inclusion," Harroz wrote. "Beyond ensuring the college is free from illegal harassment or discrimination, the college must prepare tomorrow's leaders — our students — for the world in which they will serve. It would be a disservice to them if we did not provide an educational experience that presents diverse subject matter, encourages thoughtful conversation and debate, and prepares them to practice in an increasingly diverse world."
In that "increasingly diverse world," McCall is a member of the International Fatima Rosary Crusade and a contributor to The Remnant newspaper, two organizations identified by Southern Poverty Law Center as hate groups for their Holocaust denial and a cornucopia of anti-gay and pro-Mel Gibson ideas.
Despite his resignation from his administrative jobs, McCall is still a law professor at OU and still a visage from one of Margaret Atwood's nightmares. Therefore, CFN calls for all OU law students, men and women, to wear the tightest pants possible in McCall's classes. All creative sanctuaries should be free.