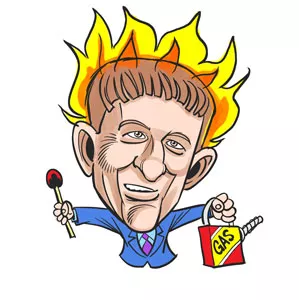 Say what you mean and mean what you say.
That old adage couldn't be more apropos than it is with the public trust and rational guidance needed of our state legislators.
Rep. Calvin Cooley (R-Oklahoma City) is a man of his word. He recently voiced his displeasure with proposed raises for Supreme Court justices, appellate court judges and their employees. He said, as a Christian, he's pissed off at justices because of decisions they made regarding reproductive choice.
Indeed, a no vote for Senate Bill 548 was appropriate. He voted his conscience. That's good.
However, the proposal passed anyway and returns to the Senate for a final look-see.
But he didn't stop there.
He then threatened self-immolation, saying that if he wasn't a Christian, he would pour gas all over his sharply tailored suit and set himself alight to "protest the evil in that building," meaning the devil's work of those godless justices across the street.
Because, you know, that's how any rational non-Christian would deal with their feelings of exasperation.