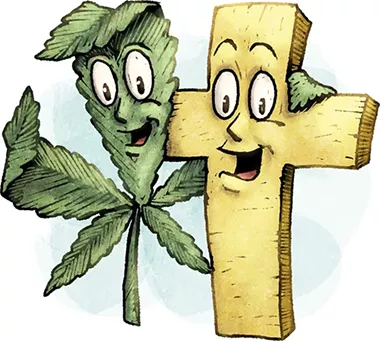 Giving season is essentially over, but it seems like some businesses found it hard to participate in holiday philanthropy. Fox 25 recently reported two instances of local dispensaries trying to give back during the season. Only one of them was successful.
Sweetleaf Health Center and Dewey United Methodist Church partnered to give five families baskets of food. Sweetleaf manager Amanda Mathews said the partnership was a step in the right direction, especially in terms of knocking down the stigma surrounding dispensaries in neighborhoods.
"There's a lot going on with controversies with dispensaries being close to churches, and we're trying our hardest to fight that," Mathews said.
Dewey church pastor Jinx Barber told Fox he "never in a million years" thought the partnership would happen.
"But I tell you what, anyone willing to help people in our community, I will gladly work with," he said. "Now that it's legal, we're going to have to get used to it being around, but it's no different from alcohol in some respects."
Unfortunately for children who come from low-income families, Collinsville School District did not have the same willingness when Pure Rx Dispensary approached it to donate money. The school district, which has accumulated an outrageous and shameful $4,000 in school lunch debt, turned down a contribution from the dispensary for about $2,700 to pay for outstanding lunch debt.
The district's nutrition director Michell Janah said they were advised not to take the donation because the lunch program is federally funded. Though if this federally funded program didn't let children go into lunch debt, maybe they could have accepted the money for other improvements in the district.
"I'm bummed that we couldn't take their money, and I hope that they truly understand," Janah told Fox. "I know money is money, but things are not always so clear. Federally funded programs have a lot of rules and regulations, and we have to be careful with those. We do not what to get stripped of it and have it impact our entire community."
Fox reports that other people in the community have stepped up to make donations, which were OK for the school to accept. The district said it will start the new year with no lunch debt, which might sound like a feel-good story when it actually highlights the disgraceful fact that lunch debt even exists in one of the wealthiest countries in the world.