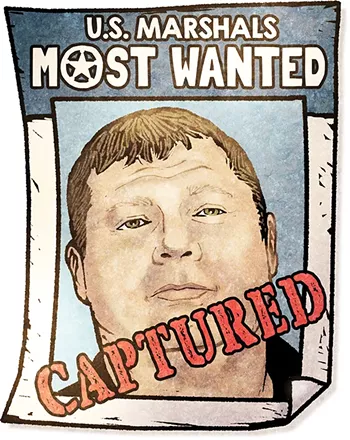 If you're going to fake your death, it's probably not a good strategy to have your family pull up headstone searches when the authorities come to alert you of your death.
Such is the case of Mississippi accused child rapist Jacob Blair Scott, who was on the lam for nearly two years and was caught hiding in an RV in an Oklahoma campground last week.
According to Biloxi Sun Herald, Scott left a suicide note tied to an abandoned dinghy in the Gulf of Mexico with a small amount of his blood. As far as faking your own death goes, that's a pretty decent plan, but the rest of his scheme might've been a few chapters in How NOT to Fake Your Death for Dummies. Scott received a wire transfer for $47,000 a few weeks before his disappearance in July 2018 and then proceeded to write a check to himself for $45,000 the following day.
Scott's actions quickly attracted the attention of U.S. Marshals, and they got tips of Scott being seen with his brother in Denver and in Memphis with this mother that included a trip "to see Elvis" at Graceland, according to Sun Herald.
The trail for Scott's capture went cold until the U.S. Marshals added him to the agency's list of 15 most wanted fugitives, and within 24 hours, they received a tip that Scott was living in an Antlers, Oklahoma, campground under the name "Luke."
According to a release from the U.S. Marshals, it was the fastest apprehension of a suspect on the agency's 15 most wanted program. We salute the residents of Pushmataha County for not letting Scott, who is accused of raping and impregnating his 14-year-old stepdaughter, escape to the Ozarks. Scott is awaiting extradition to Mississippi.