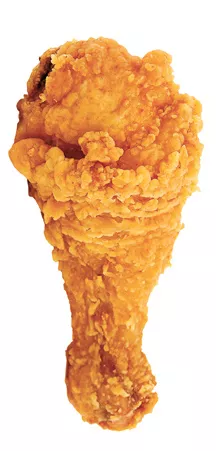 Bigstock
Fried chicken drumstick in isolated white background
After losing Union Bus Station and Stage Center in the last few years, Oklahoma City has given one of its oldest properties, the former Oklahoma City jail facility at 200 N. Shartel Ave., a chance to survive.
Abandoned for nearly 25 years, the six-story structure was completed in 1940 as a combination police headquarters and jail. Police operations moved out in the 1960s, and the jail closed in the early 1990s. Now, the city is asking developers for proposals for what to do with it, according to NewsOK.com.
The building is in not-so-awesome shape after a quarter century of disuse. A city report lists asbestos and lead paint, the lack of a sprinkler system and fire alarms and exposure to weather and wildlife as problems. Additionally, once the former court and police offices are torn down, the remaining structure also will lack access to mechanical services or utilities.
The former Oklahoma City jail is what ambitious and hopeful types like us at Chicken-Fried News might call a fixer-upper. It's also what the city and professional developers might hope to call a historic restoration.
While the city pines for a renovation, it also warns that it also can't promise financial assistance from taxpayers.
NewsOK.com reminded us the district surrounding it is in a renaissance of sorts with the development of Main Street Arcade; The Jones Assembly; John Rex Charter Elementary; 21c Museum Hotel; and expansive West Village office, housing and retail space.
In the past, development proposals for the former jail have been sporadic and tepid — one proposal in 2012 recommended transforming the space into a diner, barbershop, convenience store and laundromat.
Thankfully, we at Chicken-Fried News are on the job. We don't have any money or experience renovating six-story buildings, but we do have ideas.
1. Super-realistic escape room(s): Put in a few more puzzles and a secret alien autopsy room and it'll be a sure-fire winner.
2. Make it haunted: An abandoned jail is ripe for haunting! Turn it into a psychiatric hospital, and maybe add a "pet sematary." People will come from miles around! Charge admission!
3. Just save the dang thing already: It's a gorgeous structure; save its façade, reimagine the entire interior, add a rooftop pool, studio to three-room apartments, a basement bar and a lounge. It's ripe for all the fixin'-uppin'.