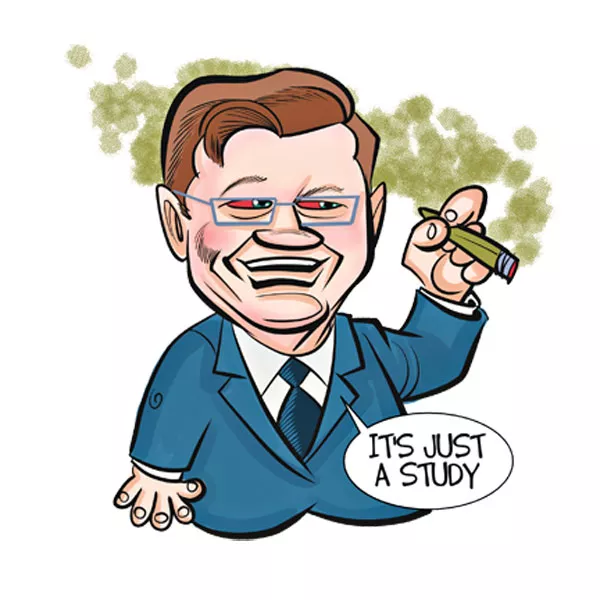 Do you know the motto of Yukon Rep. John Paul Jordan? We at Chicken-Fried News think we know!
Our guess: "Do it for Justin!" You know, Justin Case. Just-in Case. Get it?!
Our second guess: "Be prepared."
Jordan, a Republican attorney first elected in 2014, is so on it when it comes to State Question 788, an initiative petition to create new laws for Oklahomans who wish to allow marijuana use for medical purposes.
While Jordan had nothing to do with efforts to collect signatures to put it on the November 2018 ballot — that was Oklahomans for Health — he wants to review the impacts of medical marijuana legalization and get some important questions answered.
Earlier in the summer, Jordan requested an interim study on State Question 788, which was approved by Republican House Speaker Charles McCall.
"It could have a lot of variables and ramifications that I think we as a state need to be prepared for, should it pass," Jordan told NewsOK. "I want to make sure that we're being proactive in the Legislature and proactive as a state for all the possibilities so that we don't have problems afterwards."
Jordan's motto has to be, "Be Prepared."
So what are some of the questions that need to be reviewed on State Question 788?
In Jordan's study request, he listed nine questions, including: What policies and procedures need to be put in place? What practices have other stated adopted? What agencies will regulate? Should it be taxed?
Now, you ask, "Who might present?"
No confirmation just yet; however, Colorado Department of Revenue–Marijuana Enforcement Division, Arkansas Medical Marijuana Commission, Louisiana State Sen. Fred Mills, Oklahomans for Health, Oklahoma Sheriffs' Association, Oklahoma Department of Corrections and District Attorneys Council are just some of the citizens and organizations to be notified on the study, according to Jordan's interim study proposal.
So "Be Prepared" Jordan is getting the state prepared for a future with medical marijuana?
Not so fast.
"This is to make sure that folks know what the consequences are and for us to be able to prepare for them as a state," Jordan said.
Better change that motto to "Be Prepared for the Consequences!" or, as we say, "That Justin Case dude can be a real jerk sometimes."