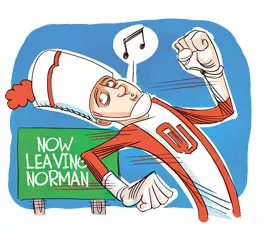 And this one time at band camp, all the students were angry and asked the band director to leave forever.
Wait. What? That's not the joke everyone has told since American Pie hit theaters in 1999.
Recently, current and past members of The Pride of Oklahoma Marching Band at the University of Oklahoma purchased an ad in The Oklahoman, demanding that OU President David Boren do something about the band director, Justin Stolarik, who they said was mismanaging the organization.
Students said they didn't know what else to do since they had been forced to sign a sketchy participation agreement that kept them from voicing any displeasure with the organization.
"We just want to learn and we are tired of our time being squandered by ineffective leadership and poor instruction," the ad said.
NewsOK.com reported that the ad was paid for by 80 alumni members.
Boren struck down the agreement, saying it should never have been put into place, and then invited students to meet with him so they could voice their concerns and he could further address their needs.
Stolarik repeatedly refused to talk to any media during the uprising and eventually tendered his resignation. Former band director and OU alumnus Brian Britt, who directed the OU Pride for 12 years, will return to the helm.
Left foot forward, fellow band nerds. March on.