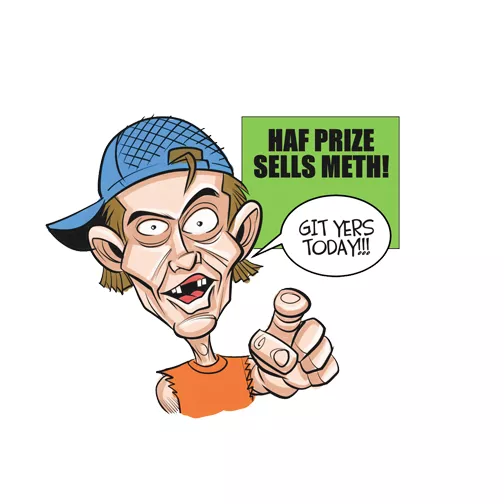 When you hear that hotline bling, it can only mean one thing: meth.
At least that was the case in the improbably pronounced Miami, Oklahoma (pronounced My-AM-uh), where police recently took down the biggest and most elaborate meth trafficking ring they've seen in the area in 15 years.
The man authorities believe was in charge is 33-year-old Slint Tate, who is already serving a life sentence without the possibility of parole in Oklahoma State Penitentiary in McAlester for the 1999 murder of Delaware County Sheriff's reserve deputy Vernie Roberts, reported NewsOn6.com.
A joint operation of Miami Police, tribal police and the Oklahoma State Bureau of Investigation, the case involved Tate allegedly pulling the strings via a contraband cellphone inside prison, moving 5 pounds of meth worth $1 million each week.
Ottawa County district attorney Kenny Wright said Tate was selling $300 worth of meth for the low, low price of $100. (Chicken-Fried Newshounds are now imagining a TV commercial: "The prices are so good you'd almost be crazy not to do meth!" … Pass.)
At least 12 people were arrested in Delaware, Ottawa and Oklahoma counties in connection to the meth ring and up to 20 more could be arrested, the Tulsa news outlet reported.
When authorities began tracking activity on Tate's cellphone, they said he received 300 communications in the first hour. We wondered which carrier Tate was using. Data costs are so high, he might have to turn to selling me— oh, right.
Print headline: Meth math