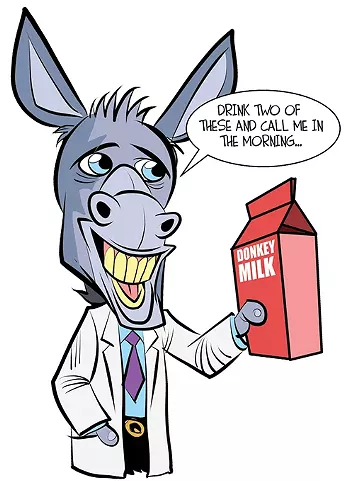 A company based out of Luther is selling raw milk and products made from donkeys after the company's owners said that it helped treat their daughter's rare autoimmune disease.
A feature promoting Dulce de Donke arrived in email in-boxes from the taxpayer-supported Made in Oklahoma program in early August, according to The Oklahoman.
The feature includes anecdotes from Dulce de Donke co-owner Saundra Traywick saying that donkey milk helped treat her daughter for the rare PANDAS syndrome (pediatric autoimmune neuropsychiatric disorders associated with streptococcus infections).
The Made in Oklahoma profile includes Traywick's unverified and isolated statement that donkey milk "has been prescribed to help everything from asthma to cancer."
There is plenty of evidence to show that donkey milk is a good substitute for people that are allergic to cow's milk, but there are only two studies from the National Library of Medicine connected to immune conditions and donkey lactations, and neither shows a correlation to helping remedy any human diseases, according to The Oklahoman.
The Made in Oklahoma coordinator told the newspaper that its feature only meant to highlight Dulce de Donke's line of products like soaps and shampoos, not its unverified claims.
As medical marijuana begins its rollout in Oklahoma, it should be noted that natural medicines certainly have their benefits, especially in comparison to some of the nasty opioids on the market, but that comes with plenty of scientific research.
We at Chicken-Fried News recommended a balance of natural and pharma-based treatments, cautioning with the old adage, "If it sounds too good to be true, it probably is."