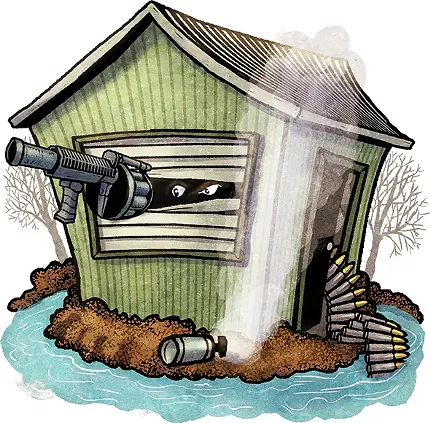 Moats were regarded as one of the most important elements used to defend castles back in medieval times, but they don't seem to be effective around modern homes.
At the end of January, ex-convict Raymond Lane Jr. ran a car into a Coweta Police Department vehicle after a high-speed pursuit and left the scene. He had felony warrants for assault and battery on a police officer, possession of a stolen vehicle and leaving the scene of an accident. So he decided to go full Florida Man and declared he would never go back to prison, started collecting weapons and even dug a moat around half of his house with a stolen bulldozer. That's right, Lane dug only half a moat, probably got a little tuckered out, and just piled a huge stack of dirt around the other half of his house. Give him a break; digging a moat is serious work.
Wagoner County Sheriff's Office and Coweta Police Department both had search warrants for his home, but Lane was rumored to have a grenade launcher, so Cherokee Marshal's Special Operations Team took the lead in executing the search. We assume two agencies swam the high-security moat and the other made the trek over the hazardous dirt piles. How else would they have gotten to him?
Like a scene out of a movie, they yelled, set off flash explosives and even had a drone looking for heat signatures before they eventually blew the door open and set off tear gas grenades. Lane wasn't there, but officers found narcotics, paraphernalia, ammunition and tons of stolen property, including a fifth-wheel RV he had been living in. The next day, officers made the trek/swim again and had to move some of the dirt to recover the RV. Then, about week later, Lane was found and arrested in Vinita, where officials found even more stolen vehicles and a potential accomplice but no moat — that is probably why he was caught, right?