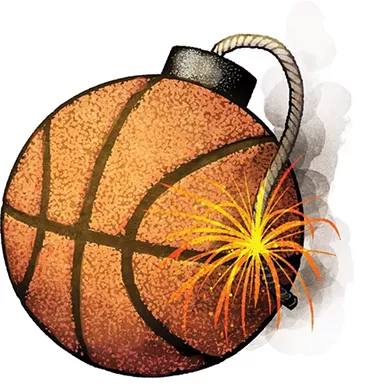 It has been a turbulent offseason for Oklahoma City Thunder fans, but a man claiming to be from Virginia left a pair of unhinged voicemails on the team's main answering service, threatening violence against members of the organization and that he might bomb the entire city — as if that doesn't strike enough of a chord here.
Early in the morning on July 6, shortly after Paul George was traded to the Los Angeles Clippers but before Russell Westbrook was sent to the Houston Rockets, a man left the first of two voicemails with the team, according to search warrant published on Deadspin.
After calling the organization the dumbest [expletive] organization in the league, he said "First off, bruh, y'all let go of Melo [Carmelo Anthony] … y'all traded Paul George but you keep Raymond Felton."
First off, how dare you disrespect Felton! He's a human teddy bear that gives hope to many people who look like him that they might be able to help the team as a veteran off the bench.
"I ain't even graduate from school [and] I'm smarter than everyone in the front office," the first voicemail says, as if he needed to clarify that he has not graduated. He wonders why they signed George to an extension only to trade him — even though the team got a record number of assets for him, rather than watching him walk away in free agency for nothing, like Kevin Durant.
"I wanna spit on y'all mummas / I will piss on y'all's kids," the voicemail transcript says before including the parenthetical, "(sounds like the male is beginning to cry at this point)," followed by giggling and a threat to bomb the city if he ever comes to Oklahoma.
The man called back a few minutes later to say that he called with some "disrespectful" words only to go on another harassing rant that singles out Sam Presti and calls Westbrook a bum minutes after he lauded the former MVP. The whole transcript is quite the rollercoaster. It reads like the words of a man that is under the influence and likely no actual threat. Local authorities are investigating the calls. Our only complaint is that the organization is too classy to print T-shirts with the phrase, "I wanna spit on y'all mummas."