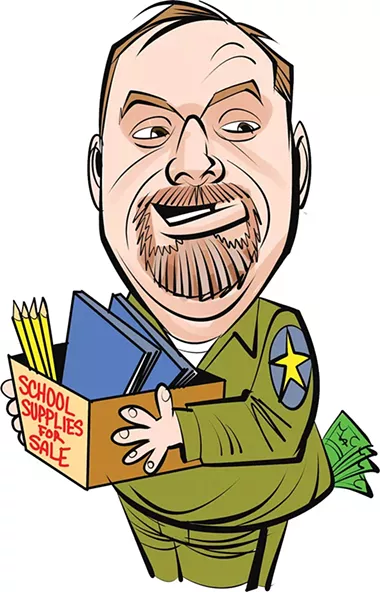 On the list of crimes committed by a county sheriff in Oklahoma, embezzling $6,000 worth of donated school supplies is relatively low, but it made headlines last week.
Tulsa World reports that Nowata County Sheriff Kenny David Freeman was arrested on one charge of embezzlement after his election campaign gave away donated school supplies during a local fair.
The Nowata Sheriff's Department arranged for a Walmart in Bartlesville to donate school supplies for seven area schools valued at $25,400. The supplies were dropped off at the sheriff's department in September, according to Freeman's attorney, but only five of the seven schools received the supplies.
According to an affidavit, a Walmart employee noticed the same coloring books, lunch boxes, crayons and markers they donated to the department were being given away by Freeman's campaign during a county fair.
Freeman, who is a Democrat, is running against Republican Terry Barnett in the Nov. 6 ballot and was appointed to the position in 2015 after the previous Sheriff James Hallet retired.
Freeman claims ignorance by saying he took 90 lunch boxes meant for children and gave them to kids at the county fair. The embezzlement charges seem potentially flimsy. Did the lunch boxes end up in the hands of the school they were meant to go to? No, but it's not like he sold them for personal gain. If anything, the arrest could be politically motivated.
It begs the question Why is a sheriff an elected position in the first place? It's easy to argue that elections mean holding officials accountable, but that only happens every four years. It's much more difficult to fire an elected official compared to an appointed one. It's a protection from accountability that other law enforcement officials don't receive.