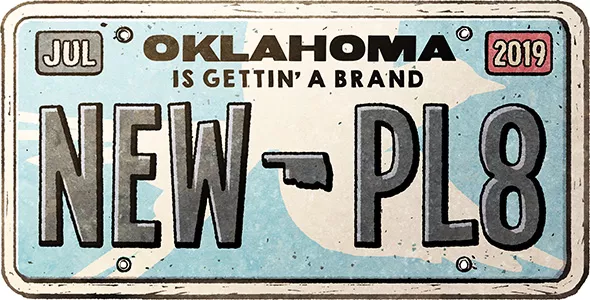 Say goodbye to Oklahoma's scissor-Twitter flycatcher plates! Lt. Gov. Matt Pinnell wants to ditch Mary Fallin's infamous 2016 license plate design and replace it with something that is "better than OK," which is not nearly as inspirational as the Gov. Kevin Stitt cabinet thinks it is.
Not only that, but Pinnell wants Oklahoma to get a new logo, slogan and welcome signs because that is what we've all been anticipating, right? No? Well, forget better funding for education, infrastructure or health care because we're getting "selfie-worthy" highway signs.
When The Oklahoman reported on Pinnell's efforts, many took to social media to complain about the license plates, and while most agreed they are unattractive, they also believe we do not need new ones.
"The plate was the clickbait for the press," Pinnell responded on Twitter. "All I'm focused on right now is recruiting the team that is going to create the uniform state branding. Tangible products could be created from this, but it's not my focus."
We're not exactly sure what this so-called "clickbait" is, but we understand his point. Anyway, the team Pinnell is recruiting will be dubbed OklaX, which is hopefully not an indication on how Oklahoma's rebranding will go. He is working with Renzi Stone, Saxum CEO, to gather branding experts for a summit in August. That seems fine and dandy, except that the creative experts will work on a volunteer basis — probably for exposure, which as we know always yields the best results.
Arguably the best part, though, is that Oklahomans can actually weigh in on what they think the rebrand should focus on through a very limited, five-question survey that is almost all multiple-choice. It takes less than five minutes because half the questions are about demographics and the fourth is so badly worded it makes you just give up.
Visit projectbluesky.ok.gov to give it a shot, because otherwise we could very well be stuck with some variation of "Oklahoma is Open for Top 10 Business Turnaround Right Here Right Now."