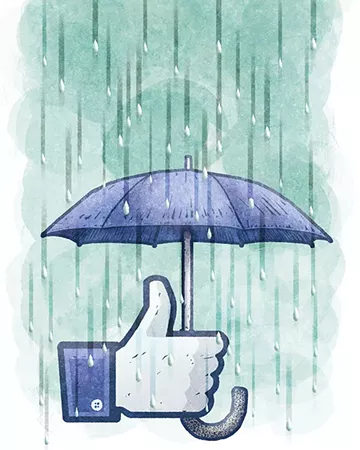 Oklahoma meteorologists catch a lot of flack when they get their forecasts wrong, but it seems like the state has a new team to rely on for the most accurate information.
Last week, Greg Howell of Oklahoma City's Parks & Recreation department posted a Facebook video in which he gave a live weather report with other city employees. Standing on a bridge overlooking a flooded highway and reporting for, of course, Channel 69 News, the fake meteorologists provided nothing but the truth, which is all we ever ask for.
"It's another day on the field," says one employee. "It's out here raining wet. You know, we're slipping and sliding; ain't nothing new."
It is not long before "chief meteorologist" Howell takes over, and even though he keeps his jacket on, you can tell things are serious.
"We're on 25th and Grand. We're reporting live. What we got back here is I-44 headed toward Lawton. Things are submerged about 7 feet high," he says as rain continues to pour on the weather team. "We're hoping that it subsides. We got a nice wind coming out of the west at about 15-26 miles per hour. It's usually in 5 to 10 increments, but today it's 15 to 26. … This is Channel 69 News, where it gets nasty as the weather."
It is all clearly done in good fun, but unfortunately, that fun happened during the workday, which is never allowed. KFOR reached out to Doug Kupper, Parks & Rec director, who unlike his television counterpart Ron Swanson, did not appreciate the employees taking the video while in uniform.
"On the surface, this doesn't appear to be appropriate behavior. If they are city employees, it wouldn't be proper behavior while in city uniform," Kupper said. "I just need to look into it further."
Howell told KFOR he would be ready to "face the music" if it came down to that but there was honestly nothing malicious in the video. But if Howell moves on from Parks & Rec, he should definitely look into becoming a meteorologist. After all, as fictional Swanson wisely said, "Never half-ass two things. Whole-ass one thing."