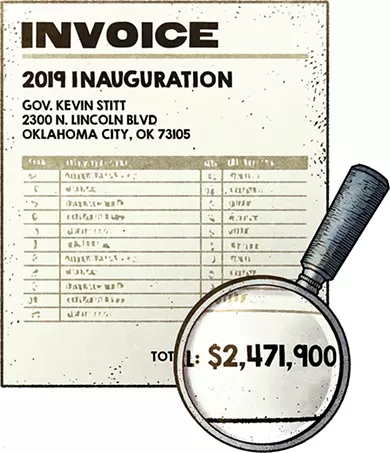 Classically trained pianist/existential philosopher Andrew W.K. famously said, "Let's get a party going (let's get a party going)/When it's time to party we will always party hard." These are words Gov. Kevin "The Original Party Animal" Stitt seems to live by, as the Associated Press recently reported his first-term inauguration celebrations cost more than $2.4 million.
Three pre-inaugural events were held in Jenks, Tulsa and Lawton in addition to the inaugural ball rager in the Renaissance Grand Ballroom of OKC's Cox Convention Center, which cost more than $200,000 to rent. Stitt's inauguration committee also paid $75,000 to contemporary Christian band MercyMe for rockin' the party and nearly $900,000 to Eventures Inc., an event planning company. The committee also donated $121,478 to the charity managing the governor's mansion.
The money for these stately shindigs, we should note, did not come from our tax dollars but, according to a finance report filed July 11, from ticket sales and private donors including QuikTrip convenience stores ($100,000), Devon Energy ($50,000) and a combined $25,000 from Continental Resources, its political action committee and its CEO Harold Hamm — i.e., entities seeking influence over how our tax dollars are collected and spent. Compared to the $8 billion state budget passed by the House of Representatives in May, the $2.4 million spent on Stitt's inauguration is relatively low, of course, closer to 10 percent of the money allotted for public education or the $2 million of the Department of Health budget earmarked for "crisis pregnancy centers," or as NARAL Pro-Choice America calls them, "fake health-care clinics that lie to, shame and intentionally mislead women about their reproductive-health-care options."
Incidentally, Oklahoma had the third-highest teen birth rate in the country in 2017 according to Centers for Disease Control and Prevention. Also incidentally, Hobby Lobby — which successfully sued the U.S. government in 2014 to get out of paying for contraceptives for its employees — donated $20,000 for Stitt's inauguration celebrations. Please remind us — what exactly were we celebrating again?