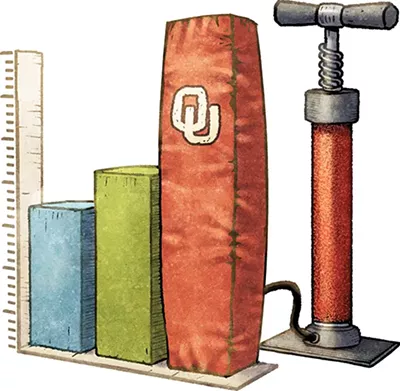 Despite the all-encompassing name U.S. News & World Report, the only thing most people know about the publication is its annual university rankings.
The magazine announced last week that University of Oklahoma will be removed from a variety of its rankings including best colleges, best values and top public universities following a report from OU Daily that the university intentionally inflated its alumni giving numbers since 1999, according to Inside Higher Ed.
The university reported to U.S. News & World Report that its alumni giving rate for 2015-2016 and 2016-2017 was 13.8 percent, but in actuality, it was 7 percent over those fiscal years, according to OU Daily. The alumni giving rate factors in 5 percent for U.S. News & World Report's rubric for determining its "Best Colleges" list, where OU celebrated in 2017 the first time it cracked the top 100 before falling to 124 in 2018. It will be removed from the magazine's listing for the upcoming cycle.
The inflation of the university's alumni giving rate took place during former OU President David Boren's tenure and was reported under James Gallogly's administration, which represents one of the few honest and non-shady moves to happen during Gallogly's brief 10-month time in charge of the university.
Inside Higher Ed confirms that OU intentionally tried to deceive the magazine by inflating the giving statistics, and it was not an accidental mistake. You know, like those accidents that last for nearly 20 years that are so common.
U.S. News & World Report routinely penalizes schools for inaccurate data, and Inside Higher Ed highlights seven such instances over the last decade, but OU appears to be the only one on the list intentionally providing false information.
It would make more sense had the university not realized their alumni giving rate was nearly half of what it reported to U.S. News & World Report because that would better explain the fact that it was losing $36 million per year and shouldering $1 billion in debt when Gallogly took his post.