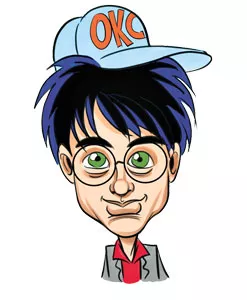 Believe it or not, Oklahomans like to read. We even made a list of states in which people like books. But don't get too excited. We haven't said which books we're famous for liking yet.
Movoto.com was interested in which states like Harry Potter and Twilight the most, and ours made the Top 10 list.
Oklahoma ranked No. 30 for liking Harry Potter, which is seen by book lovers as the more literary of the two. Almost 4 percent of us are fans. Not too bad.
But we ranked No. 4 in the Twilight lovers list, which shows that 4.5 percent of Oklahomans like Twilight. For some reason, people here love sparkly vampires and really bad relationship dramas — we won't go into how that might have something to do with the state's domestic abuse rating though. Oklahoma was one of only seven states that like Twilight more than Harry Potter.
Those of you who are embarrassed and wondering about how serious this study was can just calm down.
It was very scientific. Movoto used Facebook to gather the data. It counted the number of fans in each state by tallying up "likes."
That "like" button on Facebook is dangerous, people! Use it wisely. (And read better books. We're begging you.)