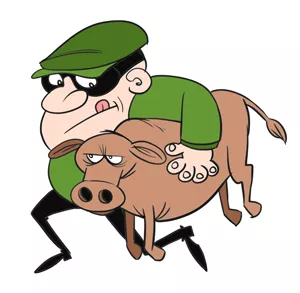 Punch someone a few times and you could get a $500 fine and up to five years in prison or both.
Steal someone's cow and you could get a penalty of up to $90,000 and 15 years in prison.
That is, if a new bill passes the house. Rep. Casey Murdock, R-Felt, felt the need to author House Bill 1387, which recently and narrowly passed through Oklahoma's House Criminal Justice and Corrections Committee with a 6-5 vote, would "assess fines at three times the value of the animal or equipment stolen and set a prison sentence of up to 15 years for those convicted of the crime," according to Oklahoma Watch.
Oklahoma had 28 reported incidents of cattle rustling in 2014. However, the cattle being stolen can be worth around $30 thousand each. Some representatives have problems with the bill. Murdock, however, said he wanted to make a statement.
A statement that values livestock safety over human safety? PETA might be proud of Oklahoma for a change.