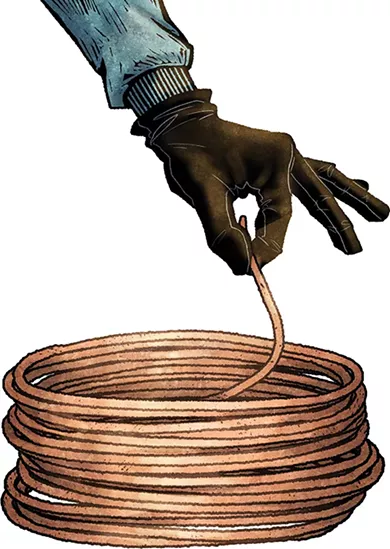 It's a scenario worthy of The Wire, except with, you know, way more actual wires.
Oklahoma City utilities officials and police officers are, according to a report by KOCO anchor Evan Onstot, "pulling their hair out" over what mayor David Holt called an "epidemic" of copper wiring theft that has disabled streetlights along sections of local streets and highways.
"On one stretch of I-235," Onstot reported, "a whopping 25,000 feet of copper wire was ripped out of light poles," most likely to be sold illegally for scrap.
Detective Scott Pope from Oklahoma City Police Department's Metal Theft Unit told Onstot that deterrents including barbed wire fencing, alarms and video surveillance do not appear to prevent theft.
In another report by KOKH's Erika Stanish, OG&E spokesman Brian Alford said that more than 70,000 feet of copper has been stolen across the metro, in some cases by people wearing safety vests and hats.
"You may notice what looks like a maintenance crew in the center median doing some work," Alford said. "Well, what they may be are thieves in the process of stealing copper."
Are these the "streetlight people … hiding, somewhere in the night?" Journey tried to warn us about in "Don't Stop Believin'"?
OG&E is replacing copper wiring with less valuable aluminum, and KOCO's Erin Beu reported that nine people were arrested in a police sting operation designed to ensure that metal recyclers are operating in compliance with laws preventing them from buying the kind of wiring used in streetlights and cellphone towers. Beu failed to mention whether any of these undercover officers were themselves wearing a wire.