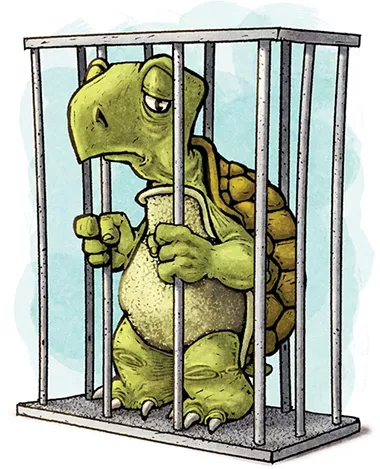 Believe it or not, plastic straws aren't the only things harming and killing turtles. Along with a host of other plastic products and lax regulations on huge corporations, a massive illegal turtle trade network — yes, a black market for turtles — is also a major threat.
In fact, Oklahoma Department of Wildlife Conservation is getting $250,000 in restitution from William Gangemi, a New Jersey man who pleaded guilty to smuggling box turtles from Oklahoma. He will also pay a $100,000 fine to U.S. Fish and Wildlife Service, as he has also pleaded guilty to other federal charges for trafficking wildlife across two other states.
Game Warden Carlos Gomez told News On 6 that a tip helped connect Gangemi to the case.
"He's one of the big buyers that's collecting the turtles from around the country from the lower level people that are actually capturing the turtles, and then he's shipping them to try and get them in the marketplace in Southeast Asia," Gomez said.
A year and a half ago, wardens were sent to a motel room where they found tubs of turtles, Gomez said. They were able to track the turtles through the shipment process and worked with other local and federal agents to arrest Gangemi, who had been working with a group of people to illegally collect more than 1,000 Oklahoma box turtles and ship them to Asia.
In a National Geographic report from last week, experts said turtles have become a "rare, coveted item to collect" and "demand has already wiped out large numbers of native turtles in Asia, making American turtles even more attractive." Asian consumers "love the taste of their meat or covet turtles with dramatic-looking shells as pets," according to a 2018 Reuters report.
Box turtles can sell for anywhere between $5 to $2,000 dollars depending on the condition of the turtle and how ornate the shell is. While there are a large number of smugglers connected to the illegal trade network, Gomez said reporting suspicious behavior could help solve crimes and save animals.
In the meantime, while plastic straws only account for a minute amount of pollution harming the environment and animals, reducing plastic use and reusing what you can is still worth your time.