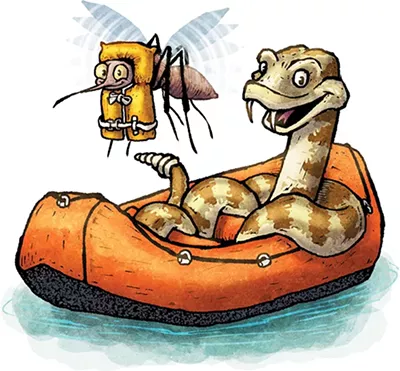 Heavy rain and flooding in Oklahoma has stirred up more than our meteorologists. News outlets are warning people to watch out for snakes, snapping turtles and large numbers of mosquitoes as floodwaters recede.
The flooding displaced countless snakes and turtles around the state, which are now forced to find a new habitat. Many people, particularly in areas where heavy flooding took place, have reported snakes and turtles in their yards or making their way through the streets.
Aaron Goodwin, who operates oksnakes.org, told Tulsa World that "only the usual precautions should be required to handle any worries about snakes."
We normally run the other way, so we will take his advice and keep doing that. Goodwin said most snakes in the water are non-venomous, so there is not much to worry about except for a very painful bite. Experts also warn people not to pick up any turtles you see slowly crawling around. They are not as lovable as movies and TV shows would like you to think.
As for mosquitoes, you have probably noticed a big uptick in the number of them buzzing around. You can definitely tell it is skeeter season by the TV reporters wearing long-sleeve shirts out in the field despite average temperatures being in the high 80s.
Not only are these the most annoying pests, but it seems like they are actually the most dangerous creatures affected by the weather. Not only are they flourishing in stagnant water, but two samples have also tested positive for West Nile Virus — probably because the universe resents the state of Oklahoma. According to Oklahoma City-County Health Department, symptoms of the virus include fever, headache, body ache and rashes – which is close to the feeling we get every time we read a tweet by Donald Trump.
In all seriousness, the West Nile Virus is no joke, so make sure there is no stagnant water around your property, use bug repellant with DEET and deal with the sweat in some long sleeves when you go out.