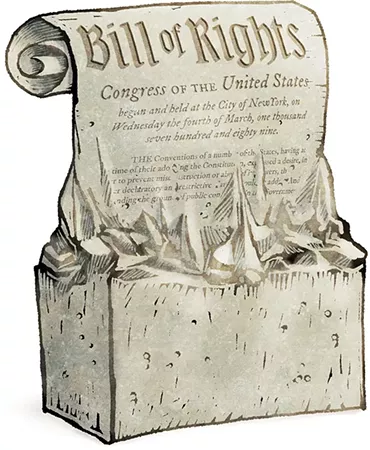 A new monument at the state Capitol has been approved, but do not roll your eyes just yet — it will have nothing to do with any religion. The new monument will instead highlight the Bill of Rights.
A nonreligious, relevant, politically important monument at the building where our state lawmakers go to make laws. Weird, right?
You might recall Oklahoma's infamous history with monuments at the Capitol. It all started with a monument of the Ten Commandments, which was destroyed and rebuilt once. To no surprise, various state and federal lawsuits followed for placing a religious monument on public property. Then came the Satanic Temple with an idea to add a Lord Baphomet monument and a Hindu group pleading that Lord Hanuman should have a place at the capitol too.
The whole situation got so bad that Wikipedia has an entire page dedicated to the original monument, citing a former state representative calling it "a lightning rod of controversy." Needless to say, the Ten Commandments were removed. Now, 10 other commandments will be placed at the Capitol — except all of these hold up in court.
The new, privately funded monument is actually more of a plaza with two limestone sculptures each listing five of the 10 amendments. Three limestone seats will also be placed in front of each of the sculptures so Republican lawmakers can sit and refamiliarize themselves with amendments besides the second one.
The sculptures will be unique to Oklahoma, with sketched details of some of the things the state is known for. Thankfully, they skipped over obesity, high incarceration, inadequate health care coverage and bicycle deaths and instead opted for oil pumps, windmills and cornstalks.