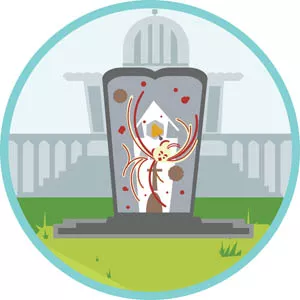 Remember the 10 Commandments monument? You know, the enormous one that seems to scream, "Hey, you! Look at me!" and has graced the lawn in front of the Oklahoma State Capitol since November 2012?
The one that has created support for adding more monuments — some serious and some maybe not so serious — and turning the Capitol lawn into Monument City?
Yeah, that one. Well, it's definitely going to be around until at least Sept. 12.
District Judge Thomas Prince has postponed a hearing that would determine whether the court would hear a case filed against the monument. He requested that Assistant Solicitor General Cara Rodriguez of the Oklahoma Attorney General's Office clean up her motion to dismiss the case against the Oklahoma Capitol Preservation Commission, which is responsible for the upkeep of the Capitol grounds and the monument itself, The Tulsa World reported. He also requested that both the plaintiff and the defendant revise and resubmit their legal arguments due to five constitutional issues that he felt had been inadequately explained.
All parties have until the Sept. 12 hearing to finish their revisions.
If the court allows the monument to remain on Capitol grounds, there is a good chance it might actually be joined by similar ones supporting Hindus, Satanists and maybe even the Church of the Flying Spaghetti Monster.