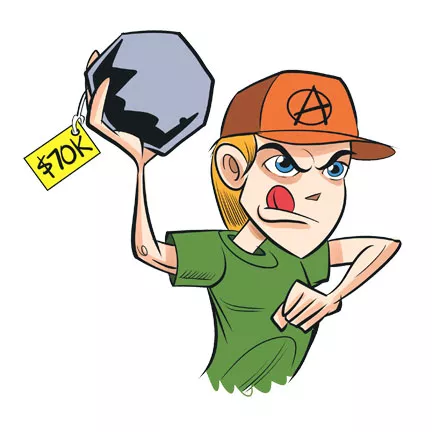 It's said that people in glass houses shouldn't throw stones, but we here at Chicken-Fried News think it's probably not a good idea to throw things at glass buildings anyway.
And if you throw rocks at buildings, we very strongly advise that you should make sure it's warranted and the punishment is worth it.
For example, when Jenny in Forrest Gump threw rocks at her house, she had a very good reason to do so and the likelihood of her going to jail for it was slim.
An Oklahoma City man definitely didn't give his rock-lobbing very much forethought.
KFOR.com reported that police arrested 27-year-old Thomas Russell Nov. 17 after receiving a call that someone was chucking large rocks at the Devon Energy Center tower at 333 W. Sheridan Ave.
Russell's actions earned him a felony charge for destruction of property — OKCFox.com reported that Russell caused an estimated $70,000 worth of damage to the iconic OKC skyscraper — but he didn't stop there.
Devon Energy Center security guards caught Russell mid-throw, and he pitched stones at them as they confronted him.
OKCFox.com and KFOR.com reported that Devon security officials then pepper-sprayed Russell before Oklahoma City Police booked him into Oklahoma County Jail on complaints of malicious injury, disorderly conduct, destruction of property and trespassing.
Nobody knows why Russell pelted the building with rocks, but we're pretty sure he now regrets it.