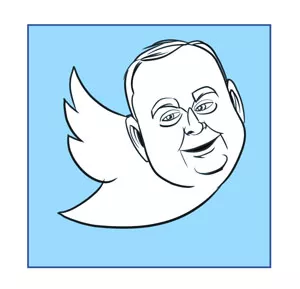 Feb. 11 will be marked a historic day.
It will be marked as the day @President_Boren — the Twitter persona of University of Oklahoma president David Boren anyway — arrived.
The pre-Valentine's twitterbirth of Boren gave rise to a quick and cool 3,000 followers eager to gaze upon Boren's cuddly visage posing around campus sculptures or hear about men's tennis winning the Intercollegiate Tennis Association Indoor National Championship.
The Oklahoma Daily reports that Boren's official account (see @FakeDavidBoren for the faux original) is run by staff in the president's office, though Boren will post occasionally, marking his contributions with "DLB" or "DBo."
DBo's latest contribution as of Feb. 19: "Congrats to OU students for standing up for the teaching of US History!"
Welcome aboard, DBo.