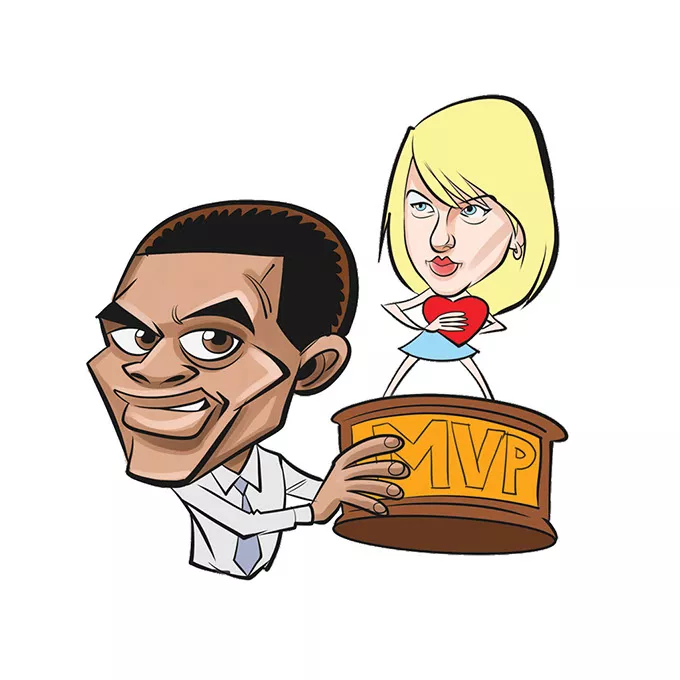 We're not crying; you're crying! We at Chicken-Fried News might be watching Russell Westbrook's emotional MVP acceptance speech for the hundredth time now, but that's not us choking up with glee. We just have a little sand in our eyes.
Seeing the Oklahoma City Thunder superstar cap off a hard-fought campaign for Most Valuable Player of the National Basketball Association was the tear-jerking conclusion OKC basketball fans needed after an unforgettable 365-day journey of tremendous highs and lows.
The win was nice, but seeing Westbrook thank his family for the first time after winning the award is where the real beauty lies. The Thunder guard seemed in-the-moment and genuine as he thanked his parents for their sacrifices, his brother Raynard for his undying friendship and his wife Nina for her companionship and the recent birth of his son Noah in May.
Westbrook delivered this portion of the speech through tears of his own, but he was still mostly smiles through the evening, even offering a lighthearted thank-you to the media (with whom he has clashed with on several occasions) for voting for him to win the award.
Thunder fans and Chicken-Fried pundits were not the only ones happy to see Westbrook take home the trophy. Congratulations rained in from across social media, including the legend himself Michael Jordan and even Kevin Durant.
"Huge congrats to Russell Westbrook on MVP. That boy went out there and was a created player on [NBA video-game series] 2K all year, Fuckin balled out," Durant wrote in a comment on his YouTube channel. "Gotta respect it!"
But even those tremendous nods pale in comparison to a video message from bona fide pop queen Taylor Swift, whose music Westbrook has repeatedly expressed his fondness for.
The "Shake It Off" performer congratulated Westbrook on the award, dryly and hilariously joking that she was the one who actually taught him to play the sport.
"I remember the first time you beat me at basketball, and I was very upset," Swift said in the video. "You said, if you remember correctly, 'You just have to shake it off,' and I got an idea. So, essentially, we have each other to thank for these careers."
Hmm … if Swift is such a baller, maybe the Thunder should use the offseason to sign her to a deal to play alongside the MVP. Now that's a combination Chicken-Fried News would like to see.