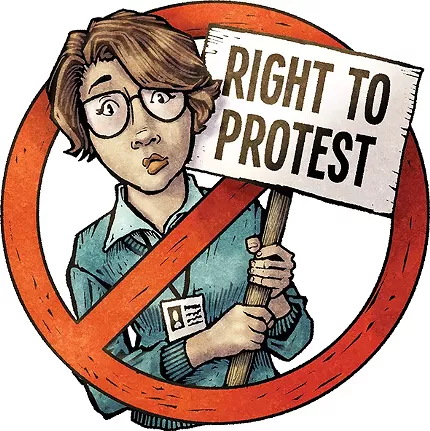 Last year's nine-day teacher walkout made national headlines, drawing tens of thousands of teachers and supporters to the state Capitol where they demonstrated their support for increasing public education funding. The monetary outcome fell far short of what educators requested, largely because legislators preferred to compare teachers to whining children rather than consider even for a moment raising taxes on oil companies. But momentum from the movement also inspired educators to run for office, resulting in 16 current or former educators being elected to the state Legislature in November. If either of two of the 2,800 bills proposed for consideration in the next state legislative session becomes law, however, such a highly visible and influential grassroots movement might not be repeatable.
Senate Bill 592 states, in part, "Any organization or group of one hundred or more persons that engages in an organized protest at the State Capitol building shall be required to post a bond of Fifty Thousand Dollars ($50,000.00) with the Oklahoma Capitol Improvement Authority in order to offset the cost of additional security, clean up and repairs."
The bill/American Civil Liberties Union lawsuit waiting to happen doesn't state where the $50,000 figure came from, but it might be based on either: (a) calculating 136.6 percent of a teacher's starting annual salary or (b) the exact amount of money former teacher and retired dentist James Young donated to save the Oklahoma State Science Fair from being killed by budget cuts in 2017. Coincidentally, we're sure, Sen. Mark Allen, R-Spiro, who authored SB592, also happened to author Senate Bill 574, which prohibits teachers from discussing any political or "controversial subject matter" with students. Even more coincidentally, Allen, who chairs the senate's Energy Committee, happens to own Arkoma-based oilfield-servicing business Allen Rathole, Inc. Though Allen defeated a former social worker to win re-election in November, he'll be term-limited out of office in 2022, when he'll presumably return to his rathole.
House Bill 2214, meanwhile, cuts to the chase by making it illegal for teachers and other educators "to strike or threaten to strike or otherwise close schools or interfere with school operations." If the bill became law, teachers who walk out would be denied pay and have their teaching certificates permanently revoked.
The bill's author, Rep. Todd Russ, R-Cordell, is a banker by trade but has clearly taken an interest in education. He also authored House Bill 2208, which specifies strict rules for organizations collectively bargaining on behalf of educators, and House Bill 2228, which prohibits "coeducational housing" in college dormitories, a situation the bill declares an "emergency" threatening "public peace, health or safety."
But last year, an education bill introduced by Rep. Jacob Rosecrants, D-Norman, authorizing school districts to incorporate "consent and healthy relationship education" into their curriculum seemed to confuse Russ.
"Help me understand what you mean by 'healthy relationship,'" Russ asked, according to Tulsa World. "Is that like a snowflake thing?"
Like Allen, Russ will be term-limited out in 2022. Public education fans might want to make an advent calendar.