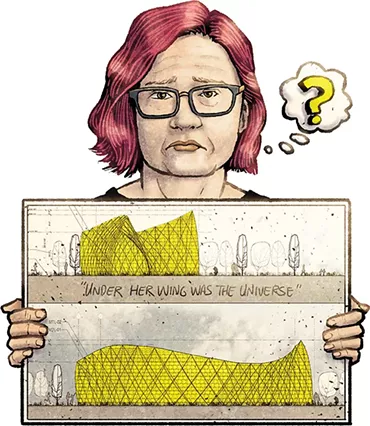 A continuing city council squabble over a planned public art installation in Enid might mean the work remains incomplete after more than two years of construction.
Oklahoma artist Romy Owens asked Enid city council for a deadline extension for "Under Her Wing was the Universe" — a 25-foot-high, 130-foot-long walkthrough sculpture she designed with artist and architect Adam Lanham — which had an original completion date of September 2017. Owens asked to extend the project deadline to July 1, 2020, due to difficulties obtaining permitting and materials and Oklahoma's unpredictable weather, but some council members are using the proposed extension to question whether the project, originally approved by a 4-3 vote at a contentious council meeting, should be finished at all.
In a Sept. 5 interview with KFOR, Owens responded to some of the objections she has heard.
"It's not a pagan monument," Owens said. "It's not a place for the occult."
Approved for $30,000 from the city's public art fund and receiving more than $250,000 in private donations, "Under Her Wing was the Universe" is basically a large man made from wicker— No, wait; we're thinking of the 1973 horror film The Wicker Man. According to Owens' concept statement, "'Under Her Wing was the Universe' creates a 2.5-acre native prairie landscape comprised of grasses, flowers, and trees. Within the habitat lies a large-scale sculptural pavilion that shelters visitors and invites them to escape into daydreams and possibility. During the day, viewers can experience the work as a sculpture large enough to envelop us whole. During the night, viewers will delight in a thousand stars overhead."
In August, Enid News & Eagle reported that Enid's Ward 4 commissioner Jonathan Waddell suggested tearing down the installation to free the space for future use, but Ward 3 commissioner Ben Ezzell argued that would be a mistake.
"We want to set a precedent that people can come to Enid and do interesting things and take risks and that just because it doesn't go perfect, we're not going to thumb our nose at it," Ezell said.
The council will continue the discussion at its Sept. 24 meeting.