Miguel Rios
Wade Gourley now serves as Oklahoma City Police Department's 50th chief.
Oklahoma City Police Department's (OKCPD) new police chief is a 30-year police veteran. Wade Gourley is the 50th police chief, succeeding former chief Bill Citty, who retired May 2 after 15 years on the job.
City manager Craig Freeman announced the selection of Gourley at a July 8 press conference. He thanked Ward 7 councilwoman Nikki Nice for her call to have an open forum where the community could meet the candidates. Nice expressed her desire at the May 7 council meeting to be intentional about diversity when it came to appointing staff and upper management.
Freeman did not host an open forum but said he conducted community outreach meetings with minority and underrepresented groups to get feedback on the department.
"We met with them and had discussion about what they saw that was going well in the department, what they appreciated about their department, things that they would like to see us improve and then also what they would like to see in our next chief," Freeman said. "Many of the things that I'm going to list here are things that are already happening within our city, that [police officers] are already carrying out every day, but they're things that they want us to continue to focus on and make improvements in."
Stakeholders expressed their desire for the chief to engage with all segments of the community, build trust and establish partnerships. Freeman said they also wanted to see more de-escalation training, mental health training, outreach to homeless communities, reducing police shootings and supporting criminal justice reforms and transparency.
"As we went through the process, we had 32 applicants. It was a long, deliberate process," Freeman said. "Six people went through final interviews. We did actually a third level of interviews with a smaller group after we had those community outreach meetings, and in this I found someone that I believe is open, engaged, he's honest, innovative. … He's committed to leading the men and women of the Oklahoma City Police Department to serve all of our residents in a fair and equitable manner."
Gourley, who began his career in Chickasha before joining OKCPD, got his start on patrol and as a field training officer before earning promotions to work in investigations, administration, emergency services and as a crisis negotiator, tactical commander and director of training, according to a city press release. He has a bachelor of arts in police administration from University of Oklahoma and has undergone training by Anti-Defamation League Advanced Training School, FBI Executive Leadership Institute and Senior Management Institute for Police.
Gourley submitted his application and resume for chief in March and said he took a step back after the hiring process to reflect on what makes a good leader.
"I learned three things that are important for those responsible for making this decision: leadership, trust and people. ... When you read articles that talk about leadership or the qualities of a good leader, you'll find several words mentioned — words like honesty, integrity, commitment, the ability to inspire others, accountability and passion," he said. "I realized these words describe the men and women in this police department I've served with for almost 30 years and continue to work with each and every day. They never cease to amaze me, and I expect them to hold me accountable as their leader to embody the same qualities on a daily basis in every decision."
Neighborhood emphasis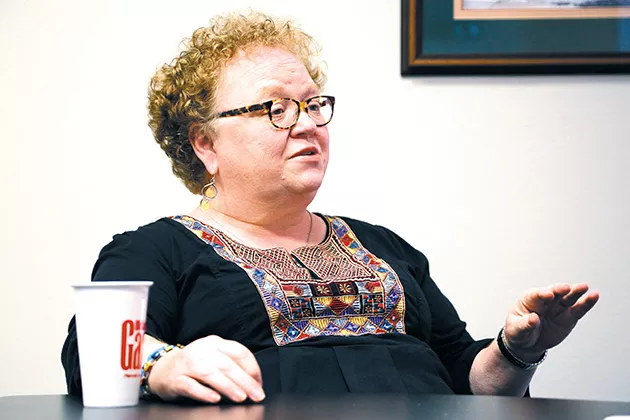 Gazette / file
Neighborhood Alliance of Central Oklahoma executive director Georgie Rasco hopes to see close cooperation between Gourley's OKCPD and neighborhoods to build safer communities.
Neighborhood Alliance of Central Oklahoma works closely with OKCPD for community relations programming. Executive director Georgie Rasco said the organization had a great working relationship with former chief Citty and is hopeful the same will hold true with Gourley.
"Neighborhood Alliance contract with the police department to do community relations for the City of Oklahoma City," she said. "We work primarily with the police community relations (PCR) officer, and chief Citty oversaw that contract every year to make sure that we were doing sort of his vision of what he felt like police community relations should be."
The deputy chiefs reviewed the contract before it went to Citty, so Rasco said the Neighborhood Alliance worked with Gourley often.
"What I like about Gourley is that he was a 911 responder for years. He was a beat officer, he drove a patrol car on the street, and I think in order for you to have a true city with positive police-community relations, that you have to have a 911 responder's heart — you have to have a heart for the officer who works daily with the community and knows the community's needs," she said. "Every time I've talked to him, he's talked about being on the streets and his experience of being on the street. So I know that's never far from his mind, never far from his heart, and I think that's going to benefit everybody in that department."
Rasco hopes Gourley can continue working closely with communities and strengthening bonds between those community relations officers and neighborhoods to not only make streets safer but make them feel safer. She cited OKCPD's mission statement, which states its special focus is "toward solving real and perceived problems within the community."
"That's always struck me as to what it is that we do at Neighborhood Alliance and a lot of these other peripheral programs that chief Citty started and really supported — it's that perception of crime that is so, so important," she said. "It's great that we're arresting people and getting them off the streets and fighting the actual crime, but if people still feel unsafe, it's not safe. You've got to let people know that it's OK to be on the street, it's OK to be downtown, it's OK to be in the neighborhood park, it's OK to walk your children to school. … I'm going to count on Gourley to continue to work with his peripheral programs that he's already got and working even harder with his PCR officers."
In an introductory video, Gourley stated his goals are to stay on the path the department has been on, improve officer wellness and retention and increase diversity in recruitment.
"I've lived here since I got out of college and started my career here at the police department since 1989. I raised my family here; I still have family here. I want [the public] to know that I'm part of the community just as they are," he said. "I want the same things; I want to be able to go out in my neighborhood and walk the dog and feel safe just as everyone else does. I want them to know that if they place a call the police for anything, that we're going to come out and we're going to help them in any way we can."