As part of her work, sociologist Nicole Warehime deals with some grim stuff. Most of what lands on her desk are sad tales. Every case she reviews concerns a deceased child and the situation surrounding the death.
"My primary focus has always been children and youth, studying children who have died due to maltreatment, and I study children of the incarcerated," she said.
Warehime had an ideal childhood. She wonders aloud if that is why she does the work she does.
"I've always been curious what happens to the children who didn't have that idyllic childhood. How do they overcome [it], and how can I help them?" she said. "I can remember even as young as eighth grade doing a community service project with the YWCA working with kids whose parents had been victims of domestic violence, so it's always been a passion of mine."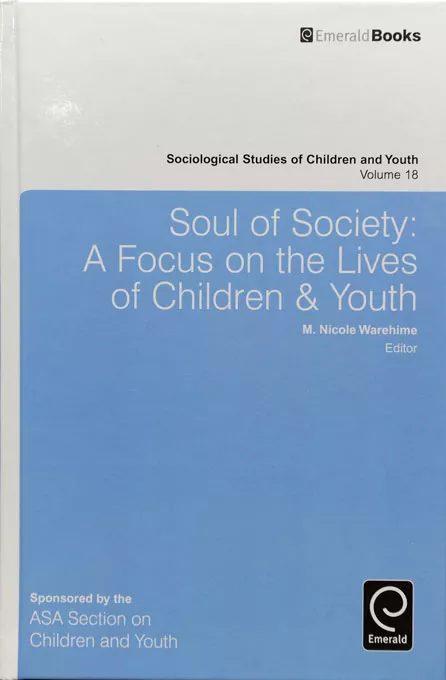 When Loretta Bass, her previous professor and mentor at the University of Oklahoma, approached her about editing an upcoming edition of Sociological Studies of Children and Youth, she saw it as a departure from her everyday work. Warehime's book, Soul of Society: A Focus on the Lives of Children and Youth is the finished product.
"It took me awhile to really focus in on the theme of the book. Children of incarcerated parents is so specific and depressing. I wanted it to be a little broad," she said.
The book is volume 18 in the series sponsored by the American Sociological Association. The series also features contributions from other disciplines.
Warehime believes in fighting for children's rights because they are unable to speak for themselves or navigate the complicated justice system. Her concern is that there aren't enough advocates speaking out for them.
"There's a lot of attention to the idea 'I will protect and I will take care of my own children, but what you do to your own kids is your business.' We need to have that conversation," she said.
The book came out in September, and feedback has been positive.
"There is especially an appreciation of the international perspective and how children fit into their community," Warehime said.
She is a board member of the Oklahoma chapter of The Messages Project.
"This is a new area that helps bridge the daily application with the theoretical models that I do," she said.
The program makes DVDs of incarcerated parents reading a bedtime story for their children. The children are then given the book and a copy of the video.
Messages is part of Redeeming the Family, a nonprofit that helps support children of incarcerated parents. To learn more about it and The Messages Project, visit redeemingthefamily.org.
---
Print headline: Society's soul, An OCU professor speaks out for those who can't speak for themselves.