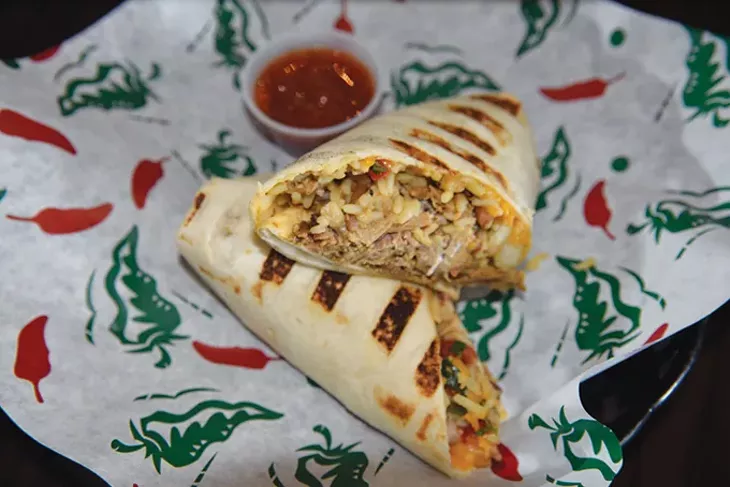 Jacob Threadgill
A Chile Pepper Café burrito stuffed with smoked brisket, cilantro-lime rice, pinto beans, cheese and pico de gallo.
The smell of roasted peppers and smoked brisket permeates the air inside Chile Pepper Café, which should be a recipe for success, but according to owner Debra Haney, people have had trouble locating the restaurant tucked inside of a shopping center near the border between north Oklahoma City and Edmond.
Located at 15220 N. Western Ave., Suite G, Chile Pepper Café opened about seven months ago and is the culmination of Haney's passion for cooking and her travels across the Southwest.
"The smell of chile peppers is one of those things that reminds me of childhood, and it makes me happy," Haney said.
Growing up in Edmond, Haney and her brothers were active participants in extracurricular activities, which meant plenty of late nights.
"Whoever was the first one home from practice got to cook dinner," Haney said. "Cooking is love; it's family, and it's friends. I always grew up trying to keep everyone happy, and the easiest way to do that is to fill them up with food."
When the opportunity to open Chile Pepper Café came about, Haney wasn't going to pass, even though it meant some very long weeks. Haney is managing the restaurant while continuing to work for Chesapeake Energy's field services department. She said she's working about 97 hours a week.
The drive that fuels Haney while bouncing from job to job is a commitment to fresh food and showcasing the flavors of the Southwest that she fell in love with as a child. The kitchen roasts Anaheim, poblano, and jalapeño peppers multiple times a day in a custom-built pepper roaster, and the fresh roasted chiles are the stars of some of the restaurant's best dishes.
No meal at Chile Pepper Café should begin without its queso blanco, unless you're lactose intolerant. The fresh roasted chiles provide smokiness and of flavor not found in your average Tex-Mex queso. The queso ($8) contains roasted poblano and jalapeños complete with seeds and membrane for added kick.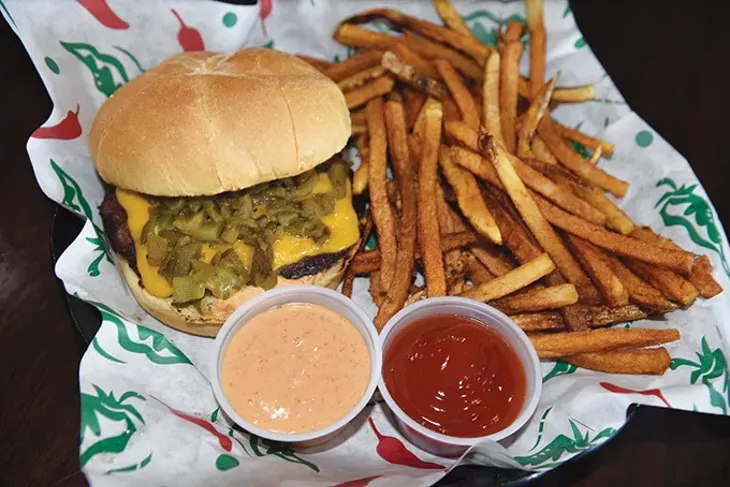 Jacob Threadgil
A fresh 1/3-pound burger topped with house-roasted Anaheim chiles and served with hand-cut fries.
"I get all kinds of comments on the queso from 'This is the stuff dreams are made of' and 'I could bathe in the stuff,'" Haney said.
I have to agree. It is some wonderfully cheesy goodness. I recommend ordering a sauce trio that features queso, fresh guacamole and an excellent habanero sauce made with tomatillos. Quite often, a salsa verde is the milder available salsa, but the habanero gives it a fiery kick without being overkill.
The stuffed jalapeños ($8) are a lighter take on the fried jalapeño popper. They're broiled instead of fried and stuffed with a Southwest cream cheese. I appreciated the charred texture and departure from the normally greasy appetizer, but it's not my favorite menu item. I can see a true stuffed jalapeño fan really enjoying the interpretation.An electric smoker stands near the chile roaster, where it turns out smoked chicken, brisket and portabello mushrooms every day. The smoked meats can be added to any of the variety of house specialties, like street tacos, rolled tacos, burritos and nachos.
The nachos ($11) allow diners another opportunity to try its queso that is covered with additional melted cheese, pinto beans and a dollop of sour cream.
The stuffed burrito ($10) showcases excellent cilantro-lime rice and pinto beans, both of which are prepared without chicken stock to remain an option for vegetarians. Haney said customers will often order burritos with guacamole or sliced avocados as a meat replacement.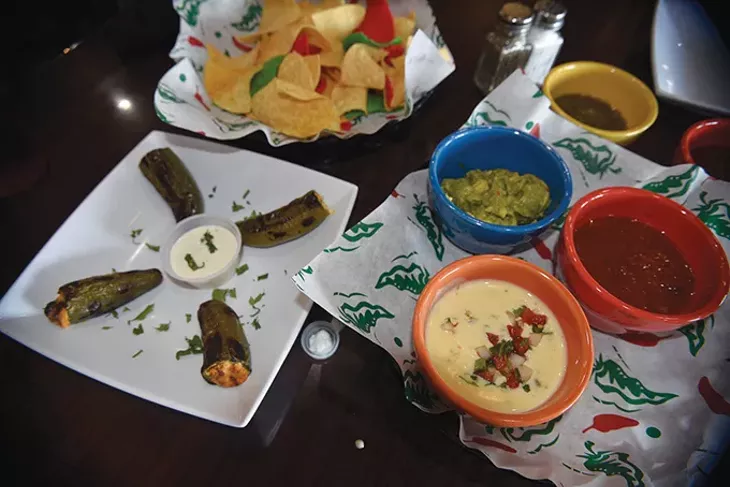 Jacob Threadgill
Stuffed jalapeños are joined by queso, guacamole and two salsas.
Every once in a while, I find a dish that becomes a personal revelation. I've had plenty of rolled tacos that are essentially crispy flautas or taquitos, but Chile Pepper Café's version is lightly fried, and the flour tortillas retain a soft interior with a slightly crispy exterior.
While you might reflexively order smoked chicken or brisket in the tacos, I urge you to try the filling with smoked portobello and sweet peppers. Forget just being a meat replacement; this filling is hands-down the most flavorful item on the menu. The combination of smoke with the mushroom and sweetness from the pepper is excellent.
I don't want the endorsement of the mushroom filling to besmirch the brisket and chicken that arrives fresh every day from Oklahoma City Meat Company because they're both commendable efforts.
Smoked chicken breast is about the only way I'll enjoy eating chicken breast, and while brisket from an electric smoker won't win any competition barbecue ribbons, it's the best option for Chile Pepper Café's street tacos ($10), which come three to an order.
In an ode to New Mexico, the green chile burger with 1/3-pound beef comes topped with chipotle mayo, cheddar cheese and roasted Anaheim peppers that are more smoky than spicy. Each burger is served with a healthy portion of hand-cut fries and fry sauce made with ketchup, mayonnaise, Worcestershire sauce and a little bit of honey.
"We got kids who come in here and order a big thing of fries just so they can eat the sauce," Haney said.
I didn't know what to expect when I pulled into the shopping center housing Chile Pepper Café, but I was thoroughly impressed. The fresh roasted chiles are such a welcome addition to every bite, and the smoked portobello is the equivalent of a supporting actor stealing scenes from a high-paid Hollywood star.
Go to Chile Pepper Café, and prepare to maybe fill your tub with its queso blanco.
Jacob Threadgill
The rolled tacos are lightly fried to keep the interior of the flour tortillas soft.