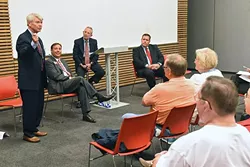 House District 85 candidate, from left, Ralph Crawford, Chip Carter, moderator Charlie Potts and Matt Jackson, (Amy Palumbo didn't participate) during a forum with other candidates held at the Northwest Library on July 22. mh
Chip Carter's political career has always involved working behind the scenes. But for the past few months, the former staffer for national and state campaigns found himself in the spotlight and on the ballot as one of four candidates in the Republican primary for House District 85.
"It is a completely different feeling being the candidate rather than being a staffer on a campaign," Carter said a day after winning his primary race by eight points. "Last night, I was kind of numb and in shock."
Carter's win sets him up to face Democrat Cyndi Munson Sept. 8.
A special election in House District 85 was called following the death of Rep. David Dank, who had won reelection just last year.
After 20 years of the northwest Oklahoma City district being represented by Dank or his wife, Odilia, last week's special election meant voters had to learn new names. Like Carter, Ralph Crawford, a retired firefighter, was competing in his first election and finished second with 29 percent of the vote.
In a regular primary, Crawford would have advanced to a runoff against Carter since no candidate received more than 50 percent of the vote — Carter won with 37 percent. In a special election, the majority vote recipient takes the race, even with a total below 50 percent.
Another Republican primary candidate was Amy Palumbo, a former prosecutor who had high hopes for the race after running for district judge last year. While she lost the race for judge, she had performed well in many precincts in District 85. She finished fourth last week with 14 percent.
Matt Jackson, who has run for state office before, finished third in the primary with 19 percent.
Carter said he celebrated the victory and got some rest but was ready to get back in campaign mode with another race less than two months away.
"I told my team to enjoy this and take a day or two off," Carter said. "But we will hit the ground hard again as we get ready for the general [election]."
Many of the candidates in the low voter turnout Republican primary knocked doors and sent mailers, some of which advocated for conservative issues. Jackson even vowed he would file legislation to abolish the Affordable Care Act, President Barack Obama's signature health care reform bill that is unpopular with Republicans.
But Carter said he tried to run a campaign that focused on more relevant issues, which he believes not only played well in the primary but will help him in the general.
"I think there are some candidates that wanted to really spend a lot of time on issues that appeal to some of the hard core right-wing voters, but those are issues that aren't as appealing to the mainstream of the Republican party and the district as a whole," Carter said. "I feel like I started off the campaign wanting to talk about education and the economy because that's what was on my heart and the hearts of the voters."
Carter, 45, is vice president of corporate communications and business development at Jones Public Relations, and while this was his first campaign as a candidate, he has been active in politics, including his work in the Right to Work campaign of 2001 that allowed Oklahoma workers to opt out of union membership. Carter also benefited from endorsements by Sen. Jim Inhofe and Gov. Mary Fallin.
Carter is an arguable favorite headed into September's election, given the district's Republican bent. But Munson, who ran last year against Dank, has nearly a year on Carter when it comes to knocking doors in the district.
"I have worked hard in knocking doors really over the last year and a half," Munson said. "I think [Carter and I] both will put out a strong ground over the next few months."
Dank's 56 percent of the vote total last year against Munson was a solid win and continued a trend of three of the last four District 85 races turning out as a Republican win in the mid 50s. (One of those years, Dank ran unopposed.) However, in 2006, Dank won election by just half a percentage point.
Democrats believe the district is a winnable seat, not just because of 2006's close race, but because this will be the first time in more than 20 years the Democratic candidate might have better name recognition than the Republican candidate. In a non-election year, a victory for Democrats in District 85 could also build momentum headed into 2016 when Democrats look to compete in a handful of urban districts currently held by Republicans.
"The voters in House District 85 are high-informed voters, and they know what is going on," Munson said. "Just going out and saying that you are going to fight Obamacare or other liberal agendas isn't going to work here.
"Chip Carter obviously has a lot of experience working on campaigns. Obviously, he is politically savvy and can speak with a strong voice. But I'm confident in the message we have been sending, and I think this is going to be a good race."
Both Munson and Carter have expressed respect for each other and don't see the September election as already decided for either candidate.
"I do respect the fact that Cyndi has been out knocking doors, and I know she is working hard," Carter said. "We are going to do the same."
Print headline: Special win, Chip Carter won the Republican candidacy for House District 85.