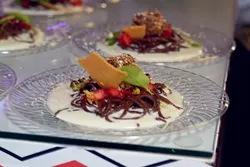 Better buy flowers for Valentine's Day, because Oklahoma City might be all out of chocolate after Feb. 4, when Chocolate Decadence returns to Automobile Alley.
Now in its 19th year, the cocoa-centric event has become a rite of passage for chocolate lovers across the metro, even those who partake too much, said organizer Nicole Thomas.
"It's so funny, but through the years, people hear I'm involved with Chocolate Decadence and they say, 'I got so sick last year, I threw up. When are you doing it again?'" she said.
With 20 restaurants making savory and sweet chocolate options, it can be difficult to show restraint.
This year's participants include Automobile Alley restaurants The Fit Pig, Broadway 10 Bar & Chophouse, Kamp's 1910 Cafe, Pelotón Wine Bar & Cafe and Red PrimeSteak as well as eateries from across the city.
In addition to old and returning favorites, like Paseo Grill and Oklahoma City Golf & Country Club, the tasting event also gives guests a chance to try some restaurants that are new to the city, including Ember Modern American Tavern and Holey Rollers. Automobile Alley Association president Steve Mason said the event has become important to maintaining and improving the district.
"Chocolate Decadence money is used for various district events and improvements, like the holiday lights, paying for the quiet zone and adding park benches and bicycle racks," he said.
Thomas said last year's event raised about $30,000. Chocolate Decadence is the district's main fundraiser.
"This is my 11th year as the event coordinator, and in that time, Automobile Alley has completely reinvigorated itself," she said. "With restaurants and beautification, it has really grown tremendously."
But while beautification is a nice side effect, Thomas said most people are there for the food.
"Everything, sweet or savory, has to have chocolate in it," she said. "Sophabella's did a cocoa-rubbed pork chop. There was a white chocolate shrimp scampi. The restaurants get really creative and competitive with each other."
Mason likens the experience to a trip to the Oklahoma State Fair.
"Instead of fried foods, it's chocolate," he said. "You get to try dishes with chocolate in them that you'd never expect chocolate in."
He said it's like Valentine's Day a week early. That doesn't just extend the sugar rush for partygoers — it also makes the event accessible to restaurants.
"Valentine's Day is the busiest week of the year for most of them," he said. "If we scheduled it any later, most of them wouldn't be able to take part."
On top of food (if there's any room left), Chocolate Decadence will feature champagne, coffee from Cafe Evoke, smooth jazz and live and silent auctions.
Holding it in the Hudson-Essex Loft Offices, 825 N. Broadway Ave., makes it convenient for everyone who wants to go and helps show off Automobile Alley to people who haven't been to the district yet, Mason said.
Guests must be at least 21 years old to attend.
Print headline: Cocoa city, Automobile Alley's Chocolate Decadence makes overindulgence a civic duty.