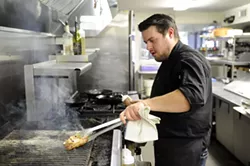 Garett Fisbeck
Chef Paul Langer works in the kitchen at Guernsey Park in Oklahoma City, Monday, Jan. 4, 2016.
Oklahoma City can't get enough chocolate.
For two decades, restaurants have delighted guests at Chocolate Decadence with savory and sweet creations with just two things in common: They all include chocolate, and they all help improve Automobile Alley.
This year's fundraiser and chocoholic dream is 6:30-9 p.m. Feb. 2 in Hudson-Essex Loft Office Building, 825 N. Broadway Ave.
Schlegel Bicycles owner and Automobile Alley board chairman Steve Schlegel said part of the event's draw is its timing.
"So many fundraisers happen later in the year," he said. "Ours is more focused on Valentine's Day."
That leads to the event's other big selling point: chocolate.
"It's a great date night scenario," Schlegel said. "We have all these restaurants with various chocolate offerings. And who doesn't like wine and beer to go along with it?"
Competitive spirit
One would think it's a grueling process for the restaurants. But Guernsey Park executive chef Paul Langer said it isn't.
"There were two different chocolate Old Fashioneds last year, so I had to do a contrast and compare at least four times. Just to be fair," he said.
Langer's chocolate pork ribs took home the Best in Show award at last year's event. This year, he's trying something a little different.
"I'm keeping on the barbecue-braised meats with a chocolate-rubbed brisket," he said. "I haven't tested anything out yet. I don't know where it will go, but it's in the same vein."
Unlike some other tasting events across Oklahoma City, Chocolate Decadence pushes chefs to innovate by making chocolate a required ingredient.
"What it does is it allows us to think outside the box," Langer said. "It's fun to see what everybody else brings to the table. We're all trying to one-up each other."
As good as brownies can be, Langer said he wouldn't bring them to Chocolate Decadence "unless they're the best brownies of all time."
The fun, he said, is in taking a conventional ingredient and using it in unconventional ways.
The competitors this year include Guernsey Park and 2016 People's Choice winner Paseo Grill as well as Automobile Alley restaurants Broadway 10 Bar & Chophouse, Iguana Mexican Grill, Kamp's 1910 Cafe, Red PrimeSteak, S&B's Burger Joint and Schelgel's restaurant Pelotón Cafe.
From outside the district, Café do Brasil, Cafe 7 Pastaria and Delicatessen, CocoFlow Chocolatier, Dekora!, Ember Modern American Tavern, Grand Casino Hotel & Resort, Holey Rollers, Jazmo'z Bourbon St. Cafe, Mariposa Coffee, James E. McNellie's Public House, Oklahoma City Museum of Art's Museum Cafe, The Pump Bar and Slaughter's Hall will participate.
Alley cats
Automobile Alley has changed immensely since Schlegel Bicycles opened at 900 N. Broadway Ave. in 2007.
"It has really blossomed in the last decade," Schlegel said. "That's how I was added to the board originally. I think I was the first retailer that embraced coming down here with a specialty retail store."
He said it was a different neighborhood then. When Schlegel was readying the store to open, he spent many nights doing construction projects inside and out from 6 p.m. to 2 a.m.
"I'd go outside to cut a piece of wood and keep looking around, kind of watching my back," he said. "Sometimes I even packed a gun."
But after a decade in business, Schlegel said the area has proven extremely safe.
"It has a real neighborhood feel," he said.
Automobile Alley hosting Chocolate Decadence in the district is not something every other district gets to do, Schlegel said.
"The venue is a lot of fun," he said. "It's literally in an old automobile garage."
Guests must agree since the event annually sells out.
Tickets for the 21-and-older event are $65 and include tastings from the restaurants, live jazz music and wine. Guests can also take part in a Valentine's auction for artwork, vacations and sports memorabilia. VIP tickets are $100 and include early entry, a special cocktail, a commemorative Automobile Alley photo and VIP seating throughout the evening.
All proceeds from Chocolate Decadence go back to Automobile Alley to fund community projects and street beautification.
Visit chocolatedecadenceokc.com.
Print headline: Cocoa yeah, After 20 years, guests and restaurants still clamber to be part of Chocolate Decadence.