Garett Fisbeck
Mike Turek poses for a photo at Old Germany in Choctaw, Thursday, Aug. 13, 2015.
Ludwig liked to party.
As Crown Prince of Bavaria, when Ludwig got hitched to Princess Therese in 1810, they threw one heck of a rager with the citizens outside the castle gates. The celebration grew larger and more elaborate as the years passed. Thus, Oktoberfest was born.
Mike Turek also likes to party. In September 1990, as owner of Choctaw's Old Germany Restaurant, he decided to throw his own satellite event.
"We started out with a modest 90-foot tent and a couple of bands," he said. "It just evolved and grew. We kept adding things to it."
This year's 25th annual celebration runs Sept. 4-12 at Choctaw Creek Park, 14098 NE 21st St.
Much like the event in Germany, Choctaw Oktoberfest quickly outgrew its original location. Turek said that's when he struck up a partnership with the City of Choctaw to move the rollicking event to a new, all-purpose pavilion.
The added space allowed the whirlwind of beer, food, polka music, dancing and games to accelerate into a nine-day event that draws more than 40,000 visitors each year.
"People are definitely excited about it. We see a lot of buzz as it approaches," said Tracy Mosley, Choctaw Chamber of Commerce president and CEO. "We get calls leading up to the event about hotels and if there will be shuttle service."
Visitors come from across the country to hoist their steins, she said. Many former Tinker Air Force Base personnel return each year, and plenty of Choctaw alumni plan reunions to coincide with it.
Turek said Oktoberfest's biggest draw is that it offers something for everybody.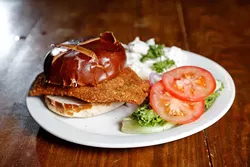 Garett Fisbeck
Schnitzel sandwich at Old Germany in Choctaw, Thursday, Aug. 13, 2015.
Worldly wonder
"Where else can you see parents pushing a stroller while drinking a giant beer?" he asked. "It's good food, good drink and a good family environment."
While a festival like this one might not sound ideal for youngsters, Turek said organizers worked hard over the years to make it inclusive for all ages.
"We'll have a big bouncy village this year with a rock-climbing wall so they can exert all that energy," he said. "There's also a children's tent with face painting. Parents can sit, relax and eat something while watching the kids play."
It's a one-of-a-kind event for suds lovers. Turek said that's largely because brewing companies don't sponsor it. This Oktoberfest has the largest drink selection of any in the country, mainly because it isn't beholden to one brewer. It pours 44 drafts, including two original Oktoberfest beers, Hofbräu Oktoberfest and Paulaner Weizen.
"Most German beers are lagers, but we'll also be serving lots of wheat beers and doppelbocks," he said. "This is a world-class culinary and beverage type event. We also have German wines for those who don't like beer."
Event fare is a pared-down version of Old Germany Restaurant's 36-item menu, Turek said. All the favorites are included: ham hocks, smoked pork chops, bratwurst and sausages, grilled chicken, red cabbage and sauerkraut and lots and lots of potato salad.
He said the festival goes through 6,000 pounds of potatoes in the potato salad alone.
"And apple strudel," he added. "You can't have a German festival without apple strudel."
You can't do it without German music, including live entertainment each day by AlpenMusikanten, Das Ist Lustig, The Walburg Boys and Alex Meixner. (There also is a second stage with country and rock acts for those who aren't as enamoured by accordions.)
With a quarter of a century behind it, Choctaw Oktoberfest has built up a good deal of history. Turek, there from the beginning, said he sees many familiar faces each year.
"They come to dance. We see people who come every year," he said. "Last year, we had people from 13 different states. For the 25th anniversary, I think we'll see 45,000 people."
That's a party so big, even Ludwig might be impressed.
Print headline: Viel Spaß!, Choctaw Oktoberfest offers nine days of drinking, culture, polka, dancing and games.