Alexa Ace
Beau Jennings plays Opolis Holiday Program 8 p.m.-1 a.m. Friday at Opolis.
Opolis Holiday Program
8 p.m.-1 a.m. Friday
Opolis
113 N. Crawford Ave., Norman
opolis.org
405-230-0311
$7
For Bing Crosby, Mariah Carey and Wham, Christmas songs have meant major holiday bonus checks, but Beau Jennings' The Christmas Light might be too dark to make his pockets jingle with silver and gold.
"I'm not going to say it didn't cross my mind that, 'Hey, people buy Christmas records, and this is something you could sell every year,'" the Norman-based singer-songwriter said of his new holiday album, released in November, "but if I was going to really follow through on that idea, I would have done all the standards and made it more upbeat and really cleaned up the sound. Instead, I made a joke awhile back my writing prompt for this one is, 'What if Cormac McCarthy made a Christmas record?' And that's a terrible idea. Why would you do that? Anyway, that's why I have a day job."
Jennings plays Opolis Holiday Program 8 p.m.-1 a.m. Friday at Opolis, 113 N. Crawford Ave., in Norman. He originally had the idea to make a Christmas album a few years ago as a way to test out some new recording equipment.
"I was about to release it, and it just wasn't quite what I wanted, so I sat on it," Jennings said. "I couldn't find my own narrative in it. It was just Christmas songs, and it felt random."
This October, as "wintery weather" arrived, Jennings decided to try again, but instead of testing new equipment, he decided to use an old four-track cassette recorder.
"That's what I learned on 15 years ago, and I just kind of fell in love with the sound of it again," Jennings said.
The Christmas Light begins with "Home Movies," a simple piano score for an audio recording that sounds as personal and intimate as the song title suggests. The album's title track follows, describing a memory of playing outside on a snow day in 1985: "I remember my mother watching from the house / I remember feeling warm / I remember seeing the Christmas light / That could shine through any storm." This time, Jennings found his narrative.
"On the cover is a photo of my mom and I," Jennings said. "I'm very young in that photo. I lost my mom earlier this year, and this wasn't intentional, necessarily, but I think it was kind of a way to address my first holiday without her. When you're sad or when you're grieving, it's always nice to have something to do about it instead of just sitting around, and I think, for me, it just helped to make art about it, so that kind of became the backdrop or the undercurrent beneath everything. And I think that led to the whole homemade, home-video nostalgic quality that kind of just started seeping into everything. I think that's where the four-track thing comes in, too — just kind of reconnecting to simpler stuff."
"The Christmas Light" concludes with the lines "You never know until it's passed you by / You can't miss it till it's gone / You can only summon up the ghost / You can only sing the song."
The album also includes covers of standards "I Heard the Bells on Christmas Day," "O Little Town of Bethlehem" and "What Child Is This?" as well as new recordings of Jennings' "Dark and Stormy Christmas" and "Christmas Bus," which have appeared on Blackwatch Studios' Christmas compilations. The versions on The Christmas Light are more quiet and somber, Jennings said, with a "4stark acoustic" sound inspired by Bruce Springsteen's Nebraska.
"Some of these maybe could have been workshopped a little longer and refined, but I think the spirit is there in the songs, and it's one of those snapshot things where this is how I felt and this is what I came out of me in this inspired moment," Jennings said.
"The Christmas Heart" draws a parallel between Mary and Joseph turned away at the inn and refugees turned back at the border. The chorus declares, "I've been searching for the Christmas heart / The first beat is the hardest part." Though Jennings said he's "not nuts" about Christmas music, the ever-present classics have an almost undeniable power tied to memories of Christmas past.
"I have a [Frank] Sinatra Christmas record, and if you put that on, it just instantly brings you to a time and place," Jennings said. "I think because you just listen to it once a year, it's very powerful in that way. … Whether or not you like it, you really can't escape it. It's going to make you feel one way or another, which is probably why some people hate it, because it's like, 'Oh shit. It's making me feel fucking sad. I'm trying not to listen to this and now it's manipulating my emotions to make me feel this way.' It's like mind control."
"The Other Side"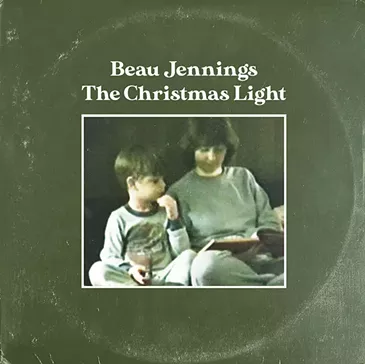 provided
The Christmas Light was released in November.
The Thunderbird
, released with his band The Tigers in September, features a bigger rock 'n' roll sound and an expanded worldview, with songs from the perspectives of a death row inmate, a Dairy Queen employee and others, but every song is still in some way personal to Jennings.
"It's easier to watch something from afar and write about it than to find your own place in it," Jennings said. "Telling someone else's story allows you to be less emotionally invested in it, but you won't tell it well unless you're invested in it. It's easier to write about people on death row or burned-out townies or whatever … but you've got to find a piece of yourself in there or some aspect that you can relate to to make it something that someone wants to hear."
Lyrically, Jennings said, the album explores what it means "to be a thinking, feeling person in the Midwest in 2019 and 2020."
"I kind of just feel in the middle of everything, if that makes sense," Jennings said. "I'm in between being a young person and an old person. My kids are just now becoming people, but at the same time, I've lost a parent now. I'm in between generations. I live in the middle of the United States. We're in the middle of this crazy political climate. It's a record about just kind of being in the thick of it."
As he gets older, Jennings said, finding inspiration for interesting lyrics in his inner life has become more difficult, but the work is rewarding.
"Writing about myself was easier when I first started writing songs, just because I was younger and more emotional," Jennings said. "Your feelings are just much bigger when you're 20 then they are when you're 40, so I'm more reluctant to dive into the hyper-personal, but I've realized as of late that even though it's harder to do now, it's more compelling. … When you're a kid, these small things are massive because it's all you know. … As I've gotten older I have better tools to write songs. I can get to where I want to get faster. I know how to arrange songs better, and I can tell quicker if I have a good idea or not, but it's still a real magic trick to get to where it's a compelling song. There's so many well-crafted songs that are super boring."
Samantha Crain, Maddie Razook, James Nghiem and many more local artists share the bill. Tickets are $7, and donations of new, clean socks and gloves will be collected for Homeless Alliance. Call 405-230-0311 or visit opolis.org.