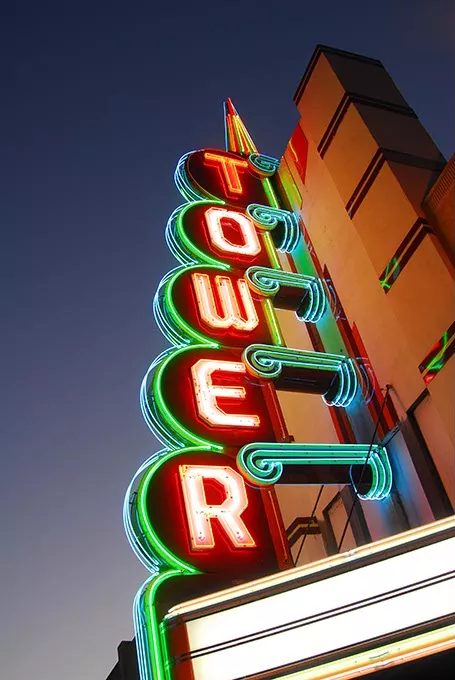 Mark Hancock
A church's plans will not affect plans for the Tower Theater, says the church's pastor.
**Editor's note: This story will update.**
Before the sermon at OKC Community Church on Sunday, Tim Mannin, the senior pastor, took time to address the controversy generated by the church's plans to convert a facility on Northwest 23rd to a permanent location. The church has taken a beating on social media since a Jan. 6 story in the Oklahoman questioned how future development would be affected in the Uptown 23rd area.
Mannin specifically addressed the core of the controversy by explaining for his congregation the legal ramifications of development, especially in terms of how it would affect the Tower Theater, the church's future neighbor.
"If our church starts holding worship services prior to the Tower Theater getting their ABLE license, they would not be able to get that license," Mannin said.
The license in question would be denied to any bar within 300-feet of a church or school because the law currently prohibits ABC-3 alcohol zoning in those circumstances. Established businesses like Grandad's Bar, 317 NW 23rd St., would be grandfathered in. Mannin stressed that the restriction is for bars that are 21 to enter only, and not for bars that function as part of a restaurant.
"We have been working with the owners of Tower Theater since the beginning," Mannin said. "We have a great relationship with them, and because we are a church that cares about the city, we are going to delay opening until Tower has their license. At the time of the first story, we could not answer questions because we were in the middle of a legal negotiation. It is now time to tell our story."
Mannin asked the congregation to address the controversy when they encounter it, but to do so with positivity and grace. "We will not respond with negativity, but we will answer questions. We want to answer questions, and there are answers."
The church has explored their options throughout the process, including investigating what would be required for legislative change.
"The law is antiquated," Mannin said. "It was designed for suburban areas, not for urban renewal. We support free enterprise, and we love NW 23rd, and we hope to see every kind of business down there: bars, restaurants, retail, entertainment, and yes, churches. We want to be a part of renewing this great city, and that means we have to be good neighbors."
The church has been meeting since March 2013, and plans have been in the works for months to occupy the facility at 421 NW 23rd St. Mannin said his congregation is small, probably 100-140 people on a regular basis. The new facility would only seat about 220, but Mannin said size was not the goal.
"We want to be a little church in a little building doing big things for Jesus," Mannin said. "The narrative that has been in the press and on social media is not who we are. It is time to flip the narrative and start talking about who we are, how much we love the city and NW 23rd, and maybe tell a story about how a church sacrifices so that a bar can open next door, because that is who we are."
Dave Wanzer, one of the three owners of the Tower Theater, said that the group is still working toward a formal agreement with the church.