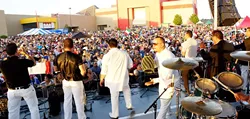 Contrary to popular belief, the annual celebration of Cinco de Mayo is not "Mexican Independence Day" (that is called Grito de Dolores and is held on Sept. 16) or a South of the border variation of St. Patrick's Day.
Cinco de Mayo instead celebrates the decisive moment in Mexican history when, at the Battle of Puebla, seemingly against impossible odds, the outnumbered ragtag Mexican army defeated an occupying French military of more than 8,000 strong.
And while the holiday isn't really celebrated in Mexico outside of Puebla, in the 1940s, California Chicanos crafted a resurgence in the day as a point of personal pride.
Since then, it has been a celebration for Latinos all over the country, gaining more and more popularity every year.
For many years, Oklahoma City has held its Cinco de Mayo celebrations in the Bricktown area, but as the Southwest part of OKC — the metro's historically Hispanic part of town — began to reclaim more of its cultural identity, there has been a shift in returning the holiday to its community roots, thanks to organizations like Calle Dos Cinco and Plaza Mayor at the Crossroads. Donna Cervantes, director of Calle Dos Cinco in Historic Capitol Hill, said that even though the area really didn't have a tradition of coming together to celebrate, the time is perfect for the district to start a new one, bringing the community together to enjoy the festivities in a way that hasn't been done there before.
"We are always looking for an opportunity to promote the area and bring community together, and this is just a great event that people just really want to celebrate," Cervantes said. "We're hosting the Cinco de Mayo event because people like a reason to get together and this is afuntimeoftheyeartohavea community celebration. We're proud to be starting a new tradition."
Starting at 5 p.m. and keeping to a relatively small scale, Calle Dos Cinco, which focuses on the Capitol Hill area, has teamed up with the new owners of the Old Oklahoma Opry, 404 SW 25th St., to confine the festivities to the parking lot behind the venue. There will be live music from bands such as La Onda, a DJ will spin tracks and food trucks will offer a local taste of Mexico and numerous beverages, including low- point margaritas from neighborhood brewers Huebert Brewing Company.
There will also be games, arts and crafts for the kids and, inside the Opry, as a way to promote the Cine Latino Film Festival series, popular Hispanic films will be screened.
"I think the main thing is to recognize the diversity in Oklahoma City, and this is the time to celebrate the Hispanic cultures and the new flavors, sights, sounds," Cervantes said. "I think people look for opportunities to experience more culture, more art, more music, so we're trying to offer them that. We want them to come to the district and see something they may not have seen before and know this is a fun place to be and that they are welcomed."
Historical significance
The Cinco de Mayo events at Plaza Mayor, the Hispanic community's newest hub for cultural events, are anything but low-key.
Plaza Mayor's first attempt at a Cinco de Mayo celebration last year was an off-the-chart success, bringing in more than 10,000 attendees. Having officially joined forces with the organizers of the original Bricktown event, this year, Plaza Mayor organizers expect more than 15,000 people to come out and take part in the fun.
Plaza Mayor Marketing Manager Robert Ruiz has a goal to not only make the space the official OKC spot for celebrating Cinco de Mayo, but he wants to make it the festival destination in all of America, too.
This is made all the more possible by the fact that Puebla is Oklahoma City's "sister city," and Ruiz is currently working with representatives from Puebla, including the minister of culture and arts, to create a real sense of unity between the locales for the event.
"We're trying to be, as much as possible, a very authentic representation of Hispanic culture here in Oklahoma," Ruiz said. "We're basically trying to create more of a cultural and commercial exchange with Puebla, and this festival becomes an extremely easy way for us to do that because it's already something that's huge in Puebla, and people can come to speak about the event about the battle. We'll be having the consul general of Mexico coming, so the vision of what we're trying to do here is really coming to fruition."
In addition to the historical pomp and circumstance, Ruiz said there is also plenty of fun to be had and it is all free to the public.
There will be numerous international, award-winning recording artists performing, Mid- South Wrestling will throw down, about eight food trucks will be on hand to keep the masses fed and many vendors, both commercial and nonprofit, are having giveaways throughout the day. Kids also will be represented with plenty of activities and games and even a Little Miss Cinco de Mayo Pageant.
The event will actually take place a couple of days before the holiday, on Sunday, and will kick off with a traditional horse parade at noon.
As for the future, Ruiz said that "it's kind of wide open right now," adding that if this event meets and exceeds their hopes, Plaza Mayor wants to expand even bigger next year by adding a Taste of Puebla culinary event and possibly even a re-creation of the Battle of Puebla with student groups.
"There are events all over the city that really celebrate diversity, so it's extremely important for people from other communities to come and experience this culture, because you start to get a representation of who your neighbors are, who your fellow Oklahomans are and what kind of things are important to them," Ruiz said. "This is the sort of event where it's important to step outside of your culture and experience other culture, and really, that helps bring us all closer together."
Print headline: Southside shindig, Cinco de Mayo celebrations finally find a home in the historically Hispanic Capitol Hill area.