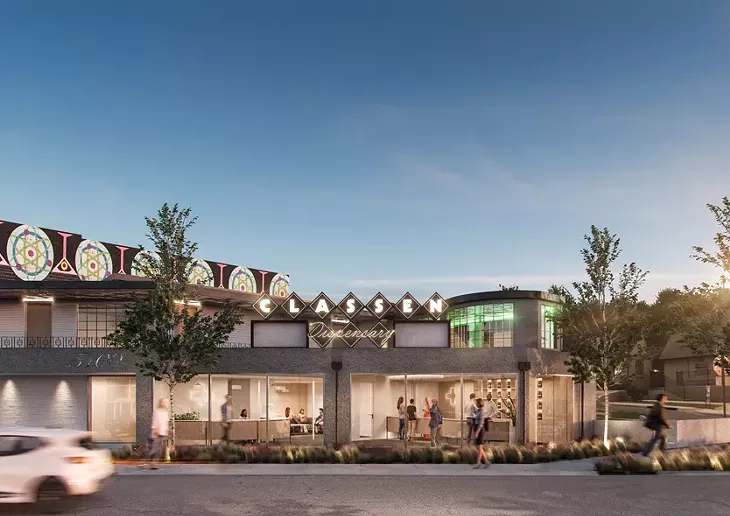 Allford Hall Monaghan Morris / provided
Renovations on the Donnay Building are expected to be completed in 2019.
It's a curious structure that almost looks like someone took extreme creative license in solving a puzzle. Take a different look, and it might resemble a tiny cityscape with multiple disparate buildings crammed into one odd-shaped block on a hillside, or a pop-art favela or an architectural glacier dumping out onto Classen Circle. But the Donnay Building, completed in 1954, is also uniquely beautiful in its own ramshackle way, exuding such exquisite originality that artist Greg Burns chose to capture its angular essence in one of his most popular paintings from the 1980s.
Now, after a near-death experience, this once-endangered property at 5114 Classen Blvd. is getting a new lease on life and a major facelift.
In January, Classen Circle LLC's Josh Thomas and Scott Mueller purchased the Donnay from previous owner Red Oak Properties LLC for $1.3 million and are investing an additional $1.2 million in an extensive renovation that will include what Thomas characterized as "massive upgrades" to neighboring Classen Grill, 5124 N. Classen Blvd. The renderings by Oklahoma City native Wade Scaramucci of London-based architecture firm Allford Hall Monaghan Morris amplify key elements of the building's original design while modernizing the building with exterior updates and windows. Scaramucci also designed the interior and exterior for an in-the-works medical marijuana dispensary located in the space previously occupied by The Drunken Fry until this summer and, before that, The Patio from 1954 to 2000. Work begins on the dispensary Oct. 10.
The Donnay Building will still look like the Donnay Building, but with improved parking and long-needed repairs and upgrades. Thomas said he is proud to be part of preserving an important part of Oklahoma City culture so future generations can enjoy this unique part of the city's history.
"Hopefully we create a spot for everyone to come out and have a great time. That's our goal," Thomas said. "Hopefully, we took a lemon and we're turning it into lemonade."
Alexa Ace
Time has taken its toll on the Donnay Building, which was completed in 1954.
Almost history
On July 7, 2017, the future of HiLo Club and the other tenants of the Donnay looked grim when Braum's Ice Cream & Dairy Stores officials filed plans with the Oklahoma City Planning Commission to raze the building as well as Classen Grill and construct a new Braum's location and parking lot in their places. In addition, Braum's was seeking to rezone residential lots in the adjacent Helm Farm neighborhood for parking.
Lynne Rostochil, founder of Okie Mod Squad, a group dedicated to preserving midcentury modern architecture in Oklahoma, sprang into action with a Change.org petition the next day. She quickly amassed 13,000 signatures and the group helped stage protests on Classen Circle. Hundreds of protesters, including customers of the HiLo, Drunken Fry, Charlie's Jazz-Rhythm & Blues Records and Classen Grill as well as Ward 2 councilman Ed Shadid, showed up for rallies outside the Donnay, waving signs at traffic through the area and chanting, "Save the Circle."
The move to demolish the Donnay seemed tone deaf at a time when Oklahoma City's development posture skews more toward reutilization and renovation of existing structures. The recent rise of districts like Midtown, 16th Street Plaza District and Automobile Alley — all formerly disused areas — pointed to a sea change in Oklahoma City's priorities. Meanwhile, plans to raze the Donnay evoked the ugly old days of 1970s urban renewal under the Pei Plan.
Following steady pressure from protesters and little positive press for their plans, Braum's withdrew its request for rezoning in October 2017. Shadid announced the move on his Facebook page.
"Almost no one thought it probable that the protesters would win, including myself," Shadid wrote. "Let's all remember that as we look to other ways to improve our lives and city."
Rostochil said the withdrawal and the Donnay Building's subsequent purchase by Classen Circle LLC was an energizing experience for people working to preserve Oklahoma City's midcentury landmarks.
"There are always disappointments, but there are also really great surprises like the Donnay Building," she said. "People are starting to recognize that midcentury modern architecture is an important resource here in Oklahoma City. It's one of the things that makes our city distinctive."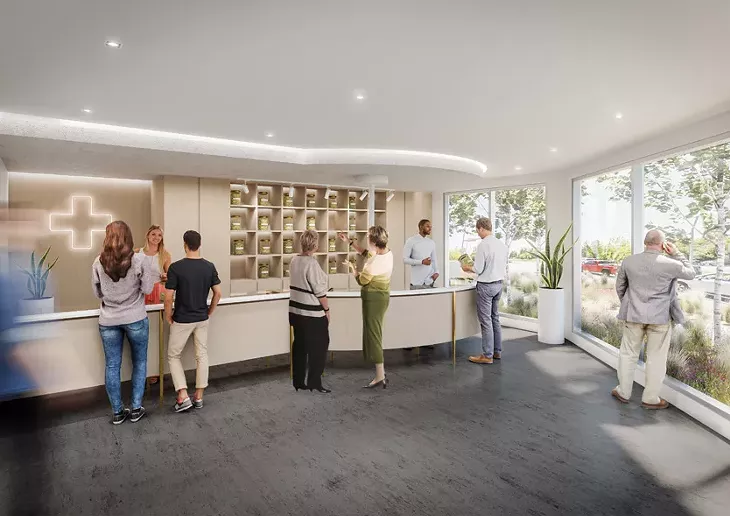 Allford Hall Monaghan Morris / provided
New architectural renderings for the Donnay Building renovation include designs for an in-the-works medical marijuana dispensary.
Moods for moderns
Rostochil comes to her passions for structures like the Donnay Building through blood ties. Her grandfather, R. Duane Conner, designed the iconic domed First Christian Church, 3700 N. Walker Ave. That building, along with Founders Bank at 5613 N. May Ave., is currently on Okie Mod Squad's list of endangered properties.
But the Donnay rescue was an important victory for preserving that era's innovative designs.
"The Donnay Building is as famous for the building itself as it is for the businesses that have been in it. It's definitely a local icon — a quirky, fun, interesting building — and it definitely adds to our architectural landscape," Rostochil said. "I think everybody remembers going to The Patio for lunch, and I just remember being a kid and looking at it and thinking it was the neatest building with all those different levels and stairs. It's just such an interesting piece of architecture, and there's nothing like it anyplace else."
Oklahoma's midcentury modern architects like Conner, Robert Alan Bowlby and Donnay Building developer Matt Donnay were inspired by the teachings of University of Oklahoma's Bruce Goff, himself an acolyte of Frank Lloyd Wright, and by the construction techniques that emerged during World War II. Wright's designs such as Fallingwater in Stewart Township, Pennsylvania, and Bartlesville's Price Tower set the example for using clean lines and angles to dramatic effect. However, Wright's buildings frequently suffer structural damage due to drainage issues that emerge from water gathering in angles and on flat roofs. Those issues can also take their toll on buildings inspired by Wright's work.
"Restoring any building of any vintage is going to present challenges, and midcentury architecture certainly falls in with that," Rostochil said. "The architects back then were experimenting like never before. They were experimenting with new designs, new materials — things like that. I'm sure those present challenges to today's architects and renovators when restoring those buildings."
As the Donnay undergoes construction through 2019, Rostochil said there is hope that the renovation will be just as successful as other recent revivals of beloved buildings from the 1950s and 1960s.
"You see it happening," she said. "The Tiffany was recently restored, and you see the renovation of Founders Tower. It's a doable deal, for sure."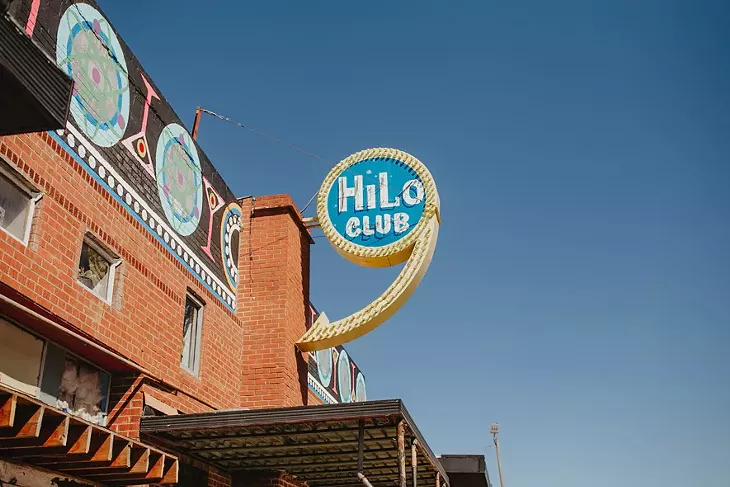 Alexa Ace
HiLo Club has operated with few closures for 62 years in the Donnay Building.
HiLo culture
Of all the current tenants at the Donnay Building, none is more iconic than HiLo Club. Opened in 1956, HiLo is the oldest operating LGBTQ+-friendly bar in OKC, but while most patrons only know the bar area, that is just the "Lo" part of the HiLo.
"We had a fine dining Hi club with dining and ballroom dancing, and the HiLo that is downstairs now was the Lo club," said Chris Simon, managing member of HiLo.
Thomas said that the Hi part of the HiLo could make a comeback.
"We're exploring those options right now with the architects and we're seeing exactly what's possible to make it what we want it to be," he said.
Simon said he and his business partners were planning a possible move for the HiLo if Braum's succeeded with its demolition plans. Now that HiLo will stay in the same location it has occupied for 62 years, it's time to go Hi, and he has plans for the upstairs area.
"It could be a hell of a club," he said. "It's been my hope that we could bring that back and truly have a Hi and a Lo club. It's always been a dream of mine to try to realize that once again."
Anyone who is a regular or has visited recently can tell there is much work to be done. Beyond the 1970 fire that gutted the bar, smoke has been a mainstay of the HiLo. Simon said everything is on the table for HiLo's renovation plans, including a possible conversion into a nonsmoking establishment.
"There's a whole generation of people who just won't come here because they don't want their hair to smell like smoke or their clothes to smell like smoke," he said. "I get that, and I completely understand that. And a lot of those people still smoke, but they want to smoke outside."
Simon has ideas for the place. The iconic Formica bar could be redone with LED lighting, and he believes there should also be a patio for those who still want to light up.
"It's old and it's been the same way for a really, really long time, and an update is a necessity for the future of the HiLo, actually," he said. "I think at this point, the HiLo has a bright future. I would like to see the HiLo modernized somewhat, so I'm looking forward to when we can close the club up and actually do some renovation. I still want it to have some of the look of what it has been and what it is. I don't think the HiLo needs to change its spirit. We can still be weird; I think we can still be the oddballs. I think that's completely marketable."
Having said all that, Simon is bracing for all that comes with renovating a 70-year-old building. He described the Donnay as "all rebar and cinder blocks," which could make the renovation challenging at times, but if it all results in a new and supercharged HiLo, Simon is all in.
"For lack of a better term, I don't want a shithole," he said. "I've worked here for many, many, many years and I've seen the HiLo through a long time. The HiLo doesn't need to radically change. It just needs to be updated for the modern age. There's no reason why you couldn't have the same aesthetic touches with modern systems. I want it to be relevant for future generations, and I can't see any reason why we couldn't."
Thomas said the HiLo has been an important part of the character of his building for decades, and if all goes according to plan, it will be for decades more.
"It's one of the most important factors of the Donnay Building," he said. "The HiLo has so much rich culture to it, and we want to make it better while retaining that culture."
Editor's note: Josh Thomas is an investor in Oklahoma Gazette.