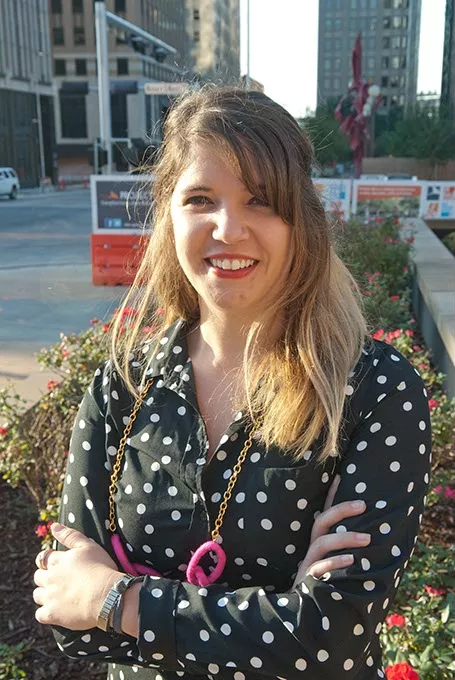 Cayla Lewis, who traveled to World Creative Forum this year, photographed in Downtown OKC. mh
Oklahoma is a hub of creativity.
Silicon Valley, New York City and the Pacific Northwest might get attention for being regions of innovation and progress, but the Sooner State holds its own as a creative center, and the world is taking notice.
Oklahoma City will host the Creativity World Forum in March, welcoming thousands of delegates to discuss entrepreneurial vision. Members from several global districts of creativity (DC) will come to OKC, which is home to the only DC in North America.
"We had to figure out a way to make Oklahoma a player in this new ideas economy," said Susan McCalmont, president of Creative Oklahoma, a statewide nonprofit formed in 2006 to advance the use of creativity and innovation-based initiatives in education, commerce and culture.
Creative Oklahoma is a part of the global DC Network, an organization based in Belgium that believes "trans-regional collaborations can foster the exchange of best practices and experiences of stimulating creativity and innovation in business, culture and education," according to the organization's website.
"We know that in classrooms, all children learn better when gifts and talents are encouraged and nurtured to do amazing things," McCalmont said. "The same is true in the business community."
Creative Oklahoma promotes ways to enhance the use of creativity in education, business and culture, all in an effort to plant the seed for initiatives that can solve big problems.
Harnessing ideas
"[Creative Oklahoma] is helping to develop and harness the huge capacity in Oklahoma for great ideas, new thinking and new business opportunities so Oklahoma becomes a player in the 21st century," said Sir Ken Robinson, a prominent speaker on ingenuity, a former national advisor for Creative Oklahoma and the most viewed presenter of the popular TED Talks. "What Oklahoma is trying to do almost every state in the union is trying to do."
Robinson, who will headline the world forum in OKC next year, said our state has many unique characteristics that make it an ideal location for creative ideas. He said a smaller population, strong leadership and the relatively low risk of starting new organizations and businesses can help make the state an incubator for creative ideas.
This year's world forum was held in Kortrijk, Belgium, and 18 Oklahoma delegates traveled to the event last month.
"The conference itself was amazing; it blew my mind," said Cayla Lewis, a state delegate who traveled to Belgium.
Lewis, a community relations coordinator for Downtown OKC, Inc., said the speakers, team building with other delegates and seeing new ideas from other countries made her trip a valuable experience. She also is excited to host Oklahoma's forum after interest in our state piqued in Belgium.
"I think the biggest thing about the forum was the impression we left on those people and maybe their idea of Oklahoma," Lewis said. "We were the only group from the United States. That was kind of cool to be the representative of our state and even the United States."
World-class creativity
The world forum is March 31 at Civic Center Music Hall, 201 N. Walker Ave., and organizers said that delegates from other countries will travel across central Oklahoma to see examples of innovative businesses and organizations before the event officially begins.
The forum will feature presentations from Michael Strautmanis, vice president of strategic programs for corporate citizenship at the Walt Disney Company; Stephan Turnipseed, executive director of Strategic Partnerships at LEGO Education; and Scott Barry Kaufman, scientific director of The Imagination Institute.
One goal for Creative Oklahoma, the DC Network and the annual world forum is to highlight the importance of bringing diverse people together and showcasing their individual talents. Lewis said her trip to Belgium was enhanced because the delegation included a variety of people she has since worked with on other projects after they returned from the conference.
"You never know what can happen when you bring people together and put ideas together," Lewis said. "Something crazy can happen that you never knew was possible."
The 2015 world forum does more than showcase OKC; it also lets hundreds of local residents gather and learn about improvements in this region and ways it can become stronger.
"It gave a sense of hope to people who had given up hope on Oklahoma," McCalmont said about the last world forum held here in 2010. "It was a paradigm changer."
The success of the 2010 world forum inspired an annual conference for Oklahomans, and each year, Creative Oklahoma hosts a one-day event that consistently sells out.
"After the forum in 2010, we wondered, 'How do we respond to these young people who are craving to get to know each other?'" McCalmont said.
With the help of Creative Oklahoma, the forums also have drawn guests from organizations across the United States.
In a few months, the city will play host to a world forum that some might not believe fits into Oklahoma stereotypes. But for those who have witnessed the innovations, developments and new ideas created here over the last several years, OKC hosting a global event makes sense.
"There's a lot to show off here," McCalmont said. "It's a great opportunity for us."
Print headline: Thinking big, Oklahoma City will host the 2015 Creativity World Forum, bringing thousands of minds together on topics as varied as education, commerce and culture.