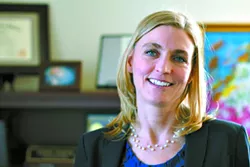 Provided
Terri White
As the Oklahoma City Council considered whether or not to close beds at an eastside mental health facility, Oklahoma City Police Chief Bill Citty not only argued in favor of the facility but said more beds were needed across the city.
"Obviously, public safety is the main issue and concern for law enforcement," Citty said. "But I can tell you in looking at our history in dealing with Cedar Ridge it is not a public safety issue as far as I'm concerned. We should be talking about at some point adding more beds, not taking away beds."
An ordinance before the council last week required approval in order for Cedar Ridge, a residential treatment center and psychiatric hospital, to keep open its adult beds. The council approved the ordinance by a vote of 7-1, but comments from the public and council highlighted the stigma that continues to exist toward those with mental illness.
"I realize there is a need for mental health [care]," said James Henderson, a resident near the facility. "But I have seen some very violent people in mental institutions. I'm concerned not only for my property value ... but also for my family's safety."
Dozens of other residents spoke out against the facility, and a petition with over 600 signatures was submitted in protest. There were also some pastors who said the facility should have to close its adult beds.
Ward 7 Councilman John Pettis Jr, whose ward includes Cedar Ridge, was the lone dissenting vote on the council. He said the facility had failed to meet with members of the community or address security and safety concerns.
"Cedar Ridge has not been a good neighbor," Pettis said.
More beds needed
While there were many words of opposition addressed to the council concerning Cedar Ridge, several mental health advocates spoke in favor of the facility and the need to have more like it.
"Medical care and saving lives happens every day [at Cedar Ridge]," said Terri White, commissioner of the Oklahoma Department of Mental Health and Substance Abuse Service. "When every bed in Oklahoma City is full, and that happens all the time, ... [police officers are] driving to Tulsa because there were no more beds in the city."
Citty said his department was forced to transfer 11 mental health patients out of the city in 2011 due to a lack of beds. In 2013, that number was 106, and the department is on pace to hit 150 this year.
"It takes 800 police man hours off the street to transfer 100 individuals to out-of-city facilities," Citty said.
Traci Cook, executive director of the National Alliance on Mental Illness in Oklahoma, said the 36 adult beds up for discussion at Cedar Ridge impact thousands of lives.
"These 36 beds don't serve 36 Oklahomans; they serve 2,000 a year," Cook said. "We are talking about services that are critical."
A shortage of mental health beds is not just a problem in the city, as the entire state is classified as in critical condition considering its bed numbers. The Treatment Advocacy Center, a Virginia-based nonprofit that tracks mental health issues, reports that Oklahoma has 11 mental health beds for every 100,000 residents. That ranks the state as ninth worse in the nation.
The same report claimed communities with a shortage of mental health beds often see increased problems with homelessness, overcrowding at jails and psychiatric hospitals, emergency room overflows and an increase in violent crime.
"The results of this report are dire, and the failure to provide care for the most seriously mentally ill individuals is disgraceful," Dr. E. Fuller Torrey, president of the Treatment Advocacy Center, said at the time of the report's release. "Our communities are paying a high price for our failure to treat those with severe and persistent mental illness, and those not receiving treatment are suffering severely."
The Substance Abuse and Mental Health Services Administration also reports that Oklahoma, at 21.88 percent, has the second highest rate of adult residents with mental illness.
'The people ... are us'
Before the council voted in favor of allowing Cedar Ridge to keep its adult beds, Ward 4 Councilman Pete White spoke in favor of the center and was critical toward those residents who had said it posed a safety hazard and would drive down property values.
"The property value question arises when people create a situation to something that is really not a problem," White said. "The facility didn't do anything to affect your property values. Your reaction did."
Representatives for Cedar Ridge told the council that safety measures were in place, including the addition of new fencing. However, White was also critical of surrounding Cedar Ridge with a fence.
"What is the impact on the people on the inside of the facility when they are fenced in?" White asked. "The people who are inside that facility are us."
Print headline: Healthy debate, Faced with a shortage of mental health access, Oklahoma City Council approves more adult patient beds for an eastside facility.